"O Lord and Master of my life, take from me the spirit of sloth, despair, lust of power, and idle talk. But give rather the spirit of chastity, humility, patience, and love to Thy servant. Yea, O Lord and King, grant me to see my own transgressions, and not to judge my brother, for blessed art Thou, unto ages of ages. Amen."
~ The Lenten Prayer of St. Ephrem
I was raised and nurtured in the faith in a church that followed a liturgical calendar. During my prodigal young adult years, Lent would draw me back through the doors of the church like a tether. I no longer worship in a liturgical church like the one where I grew up, but it's with the sweetest memories that I've held onto the practice of Lent in my personal devotions.
One afternoon years ago at the beginning of Lent, my friends, Barbara and Jane, and I crafted a hundred fabric hearts as gifts for a women's retreat. The hearts were stuffed with cotton balls dabbed with rose-scented oil and pinned with satin ribbons and tags with this verse from Ephesians: "Be imitators of God, therefore, as dearly loved children and live a life of love, just as Christ loved us and gave himself up for us as a fragrant offering and sacrifice to God."
When two or more are together in Christ's name, as we were that day, God's Word tells us that He is there with us; and that afternoon, His presence was almost tangible in our sweet fellowship and the scent of rose that permeated the room where we worked. And we reminded each other that we were those "dearly loved children" Christ loved enough to be the "fragrant offering and sacrifice to God."
When all the hearts had been cut, stuffed and tagged, Barbara began to cry, no longer able to hold back the emotions attached to an urgent need for prayer that she'd kept to herself all afternoon. In a sacred moment between sisters in Christ, Jane and I knelt at Barbara's feet and pleaded with God for the serious issues Barbara faced.
I brought the crafted hearts home with me, and after dinner I strung them on a large dowel and hung them in the living room to dry overnight. The rose scent drifted throughout our house as I opened the Lenten devotional reading for that day from John Piper's Fifty Reasons Why Jesus Came to Die. The chapter began with these two verses:
"Yet it was the will of the LORD to crush him; he has put him to grief." Isaiah 53:10 ESV "Christ loved us and gave himself up for us, a fragrant offering and sacrifice to God." Ephesians 5:2 ESV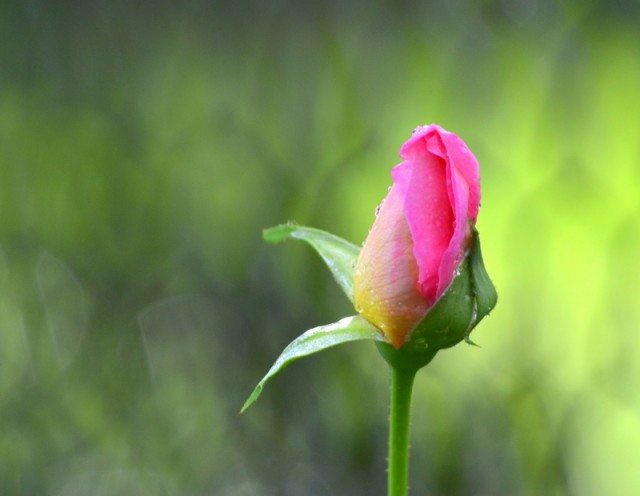 I don't believe this was a coincidence. I believe that God sometimes orchestrates even the smallest details that manifest His presence in ways that can sometimes be difficult to articulate, but are powerful faith builders for those who experience it none-the-less. That day was one of those experiences. When we made the decision to make the fabric hearts and label them with Ephesians 5:2, I had no way of knowing that the very same verse would be in my reading that evening, or that my friend would be in great need of prayer and an assurance of Christ's presence. I could not have imagined that the verse and rose-scented oil would be a powerful testimony to His presence for Barbara that afternoon – but God did. I believe that it was exactly as He had planned it to be, and I'll always remember God's love for His children in Christ, a fragrant offering and sacrifice to God, when I see and smell a rose.