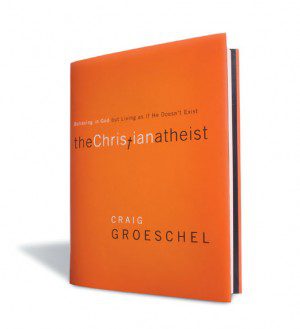 The title of this book is by itself an attention grabber. But it's not about some famous Christian becoming an atheist or some famous atheist becoming a Christian. Instead, it about all of us who say we are Christians.
Craig Groeschel's thesis in "The Christian Atheist: When You Believe in God but don't Really Know Him" is simple and straightforward: we talk a good game of believing in Jesus Christ, but how we live and how we act is another story.
In each succeeding chapter, Groeschel, the founding and senior pastor of LifeChurch.tv in Edmund, Oklahoma, describes exactly why we profess to Christians but act like atheists: we don't really know who God is; we ashamed of our pasts; we aren't sure God loves us; we don't pray; we don't think God's fair; we won't forgive; we trust more in money; we don't think we can change; we don't believe in "church."
The reader's discomfort factor keeps rising through the book because it's all too familiar, too recognizable.
Reading this book is like looking in a mirror.
I started with some basic skepticism, until I hit what Groeschel says on page 42, when he describes all the different words we use to describe God – words that fill gaps in our own lives. Words like this: "When you feel totally alone, perhaps you call him 'Friend.' Maybe your earthly father has never been there for you, and to you God is 'Father.'"
Nailed. Guilty as charged.
Groeschel isn't content to point fingers at others. He talks a lot about his own life, and his own failings. He would call himself just as much a Christian atheist as anyone else. He understands the gap between saying something and doing something, because he's lived and lives that gap. We all do.
But we have a gracious God, a God who showers grace upon us. "The Christian Atheist" is one of those droplets.