I give the switch on the cord a quick twist, then stand back and admire the lights. I cup the hanging, worn, red apple in my hand, feel the rough, gaze at glitter that sparkles. It's hung now on 42 trees–well, except maybe for two or three grief years when we skipped decorations. So make that 39 or 40 years. My new ViBella ornament dangles next to it and above that the Hallmark "Remembered with Love" heart I bought after my mom died. It's its first hanging, since we grieved last year.
I suppose it's time to box Christmas up.
I remember that I need to stoke the fire, so I go downstairs. I bend down to stroke hot silky fur of two enemies curled side by side, heat mellowed. I stand close to the stove, bake in the fan's hot breath until my cheeks flush and my thighs burn when they rub against my jeans. Only then do I pull my pink sweatshirt sleeve (the sweatshirt my mom gave me for cool yard-sitting weather) over my right hand and move the damper lever to the left, slip the door handle into the stub, and swing wide the WinterWarm fireplace insert. Flames flare and I stir the red hot coals with the poker.
Then I retrieve two split pieces of maple from the stack under the nearby stairs and lay them on the grate, stack another piece on top. I sit next to the cats on the carpet where it meets the slate and watch golden tongues dance and lick the logs–watch wood fibers curl. Until a spark flies, so I close it all up again and settle into the nearby rocker.
And I think about wood and trees and mangers and crosses. I think about hammers and saws and nail-pierced hands. About men who walked untouched by flames, about others fried at stakes.
I ponder furnaces and afflictions and silver and purifying fire. And I wonder how many flames I'll need to pass through before He says "enough." How many cycles of heat and rising dross and scraping off before He sees His reflection.
How long before He's revealed in my roughness, before I'll sparkle in His sight.
And I sit and rock and the evening grows dark and it's time to start dinner.
There'll be no boxing up Christmas today.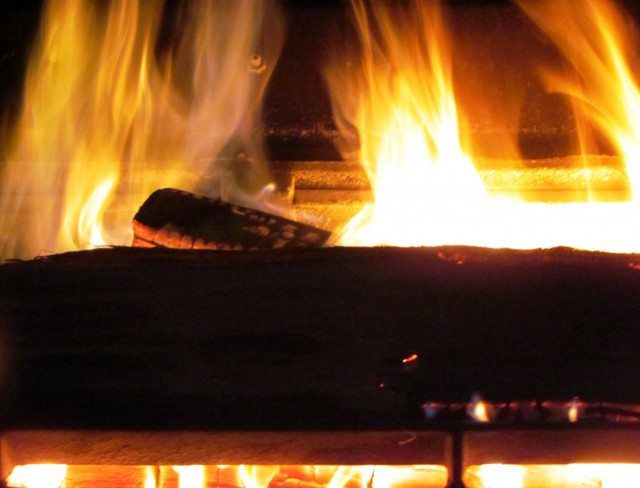 In all this you greatly rejoice, though now for a little while you may have had to suffer grief in all kinds of trials.These have come so that the proven genuineness of your faith—of greater worth than gold, which perishes even though refined by fire—may result in praise, glory and honor when Jesus Christ is revealed. ~1 Peter 1:6-7 (NIV)