My 12 year old daughter has gotten up every Thursday at 4:30am for almost two years to go cook and then feed breakfast to the homeless population of Baton Rouge. The breakfast is served at the Baton Rouge Dream Center's Roselawn location, which is just off Florida Blvd, right down the road from the Volunteers of America shelter. After breakfast the men (and sometime women) who come get to shop in a free clothing boutique. There is also a bible study that meets after the breakfast and the people are given access to counseling for addictions and help getting a job if they wish. They are all invited to Sunday church services and a ride is provided if they want to come.
Over the last couple years we have seen many of these people start attending our HPC Baton Rouge Dream Center campus, a few are no longer homeless, some now have jobs, many are meeting Jesus.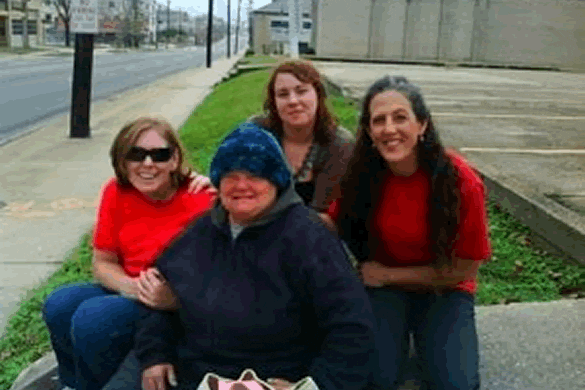 What my daughter and the No Place Outreach team also do is after serving the breakfast they go out to the Levee, overpasses, crack houses and "camps" to bring food, blankets, sometimes Medical care and always prayer to the homeless that can't or wont go to the breakfast.
BUT one thing they don't do is give money. Shocked? Don't be, one guy confessed that he makes $150.00 a day asking for money with a sign on the highway. Others have told us that the $3.00 most ask for for bus fare, is used to get a hit of crack. And we have watched as others have taken money and bought their current life source, a bottle of cheap wine. Giving money is a band aid at best and at worse it's a tool of the enemy to keep everyone, including us, right where we are.
What I mean by that is people feel better, like they did something to help, when they give a homeless person money. So the giver gets to keep moving and go on to life in the suburbs and the homeless guy gets to live one more day trapped in his addiction, away from true relationship and even closer to death, without hope. In giving the guy on the corner the $3.00 we are not doing what the good Samaritan did. He cleaned the guy up, took him to a hotel and paid for the guy's stay there while he recovered. He made a long term commitment to the man. Connections with people that will care how things go with them day in and day out is what homeless people need more then money.
James 2:14 What good is it, my brothers, if a man claims to have faith but has no deeds? Can such faith save him? 15 Suppose a brother or sister is without clothes and daily food. 16 If one of you says to him, "Go, I wish you well; keep warm and well fed," but does nothing about his physical needs, what good is it.
Most of the time, giving money doesn't do anything but worsen the man's physical needs.
I know a young man who sings at a few local clubs. He loves God and knew he would be used there. Only the way God is using him there is not what you would suspect. He has made friends with a few homeless guys that hang outside one club. He brings food to them, talks to them about life, prays with them and brings a couple of them to church. When he found out one of them was sick in an abandoned house with the flu, he went to visit him and brought him medication. He has a relationship with this guy, a friendship has formed and now the guy is no longer homeless.
THAT is meeting the physical need.
But lets say you feel you can only give money. Fine, give money to a homeless shelter so they can house more people. Fund a free breakfast or lunch facility. Support ministries that are feeding and clothing and helping people actually get out of homelessness. Or if you feel you can be a little more hands on, go buy some tents, shoes, jackets, bibles, snack food and take it to the places where the homeless live on the streets. Start small maybe yet more relational by getting the guy a happy meal and bringing it to him, then have a conversation with him about his life.
Or do like my young friend has, befriend ONE homeless person.
Ministry to the homeless is not easy. If your a results driven person, you will be disappointed more then pleased. leave the souls to God, don't look for results other then doing what we are told to do in James and doing your best to give someone hope. There is no quick fix, it's a long term problem that takes long term commitment, not a $3.00 hand out.
If you would like to get involved in reaching out to the homeless in your area, here are just a few great organizations that do just that.
St. Vincent DePaul
Shout for Joy
Potters Street Community
No Place Outreach
Volunteers of America
The Baton Rouge Dream Center
 
Grace,
Carole
About the author:
Carole Turner
Baton Rouge, Louisiana, United States
41 yr old story teller, singer, artist, Orphan care advocate. Married 14 yrs to Dean. Mother of Evangeline, who has Juvenile Diabetes, miracle of birth. Steele, first adoption miracle and Abel our second adoption miracle from Ethiopia.
Follow my blog: http://www.thewardrobeandthewhitetree.com  
Follow me on Twitter: http://twitter.com/CaroleTurner