by Andy Deane
Studying the Bible should be fun. On way to study the Bible is to use the "Favorite Verse" approach. This Bible study method works well if you start using it with a brand new Bible. Let me explain it to you.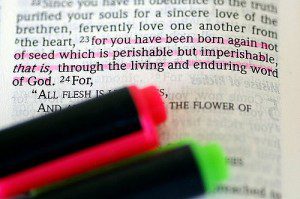 First you simply read a chapter of the Bible. Then pause and think about what your favorite verse was in the chapter. A favorite verse is the Bible verse that spoke the loudest to you. It may be a comforting promise that fits your present situations or a surprising accurate rebuke about a current sin in your life. Whatever it is that God chooses to reveal to you in that chapter remember to only choose one verse. This will help you to really think about the different verses in more detail. After you've chosen your verse underline it. Keep doing that for all the chapters that are in that book of the Bible. This can be done all in one sitting, or for larger books, over the course of a few days.
Once you've finished the entire book then go back and look at all your underlines – one for each chapter. Really think about what your all-time favorite verse was for the entire book based on the verses you underlined in each chapter and circle that verse. This won't be easy, but again, it will cause you to think more deeply about those verses (that's a good thing)! Now that you've chosen your favorite verse for the entire book go back to the first page of that book and in the margins write a sentence or two about why you chose that for your book verse. This way you'll be able to see which verse was your favorite book verse just by going to the beginning of that book in your Bible.
So, if you are studying the book of Philippians then you should have 4 favorite chapter verses underlined, and 1 favorite book verse circled. Do this for the entire Bible and you'll have 1189 favorite chapter verses and 66 all-time favorite book verses for each book of the Bible! Imagine how valuable that Bible would feel to you after having invested so much time into it. And if you want to use this approach again to study the Bible then all you need to do is use a different color pen or highlighter. Try it out today!
Learn more by visiting the book's official website at http://www.LearnToStudyTheBible.com.
CHECK OUT MORE METHODS   |   BUY THE BOOK!!!
About the author:
Andy serves as an associate pastor at Calvary Chapel Old Bridge in central New Jersey where he oversees a vibrant junior high ministry. In 2009 he published his first book Learn to Study the Bible: Forty Different Step-By-Step Methods to Help You Discover, Apply and Enjoy God's Word. His greatest desire is to equip and inspire God's people to dig into the Scriptures and begin comprehending and applying the richness of His Word into their daily lives.
You can follow him on Twitter at… @andydeane