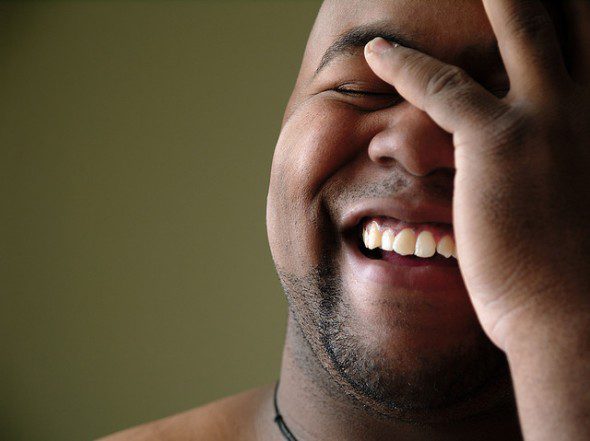 Verses like these use to trouble me:
"Consider it pure joy, my brothers, whenever you face trials of many kinds," — James 1:2 (NIV)
"In this you greatly rejoice, though now for a little while you may have had to suffer grief in all kinds of trials." — 1 Peter 1:6 (NIV)
"Not only so, but we also rejoice in our sufferings, because we know that suffering produces perseverance;" — Romans 5:3 (NIV)
Rejoice in suffering?  Consider it pure joy when we face trials? My heart says, "Yes Jesus! Praise the Lord!" But my mind says, "Whatever dude." When I face difficult trials the emotions that surface are hurt, anxiety, anger, or sadness. Rarely did joy surface.
Usually during trials happiness doesn't enter often, and when it does it is usually an emotion that is short-lived.  Quickly, the hurt, anxiety, anger, or sadness returns and engulf my entire being.
The way my eyebrows crunch in communicates a lack of joy.  My thinking and actions becomes more self-centered from the lack of joy because I'm either attempting to self-heal or I sit and wait and expect God to place priority on my healing.
How in the world am I supposed to be happy when I face trials like a death in the family, a loss of a job, a failing grade in class or loss of a relationship?  In these moments, life sucks.
Where's this joy God the father promises? (Isaiah 55:12)
What is this joy that Job had? (Job 33:26)
Hmmm…  I wonder if we use happiness and joy interchangeably? After doing a word study on how joy is used biblically, I realize that joy is not just an emotional reaction or an extreme ecstatic emotional reaction; it is a quality.  It is a quality given to us by the Holy Spirit (Gal 5:22). Therefore it shouldn't be used interchangeably with happiness; these terms are different.
Happiness is a reactive emotion. Something must trigger us to experience the emotion of happiness.  A fellow blogger, Brian Cromer said, "Happiness is an emotion usually directly related to circumstances that are currently happening." So when things or going our way or when awesome things happen to us we react in happiness.
Joy is an attitude of the heart and is a gift that derives from God's love (Isa 9:3, Acts 13:52; 14:15-17). As in all of God's gifts, joy can be interrupted by sin. Therefore, we are called to share in the promise of joy by walking with Jesus daily.  We must expand and rejoice in our knowledge of Him (1 Thes. 5:16; Phil. 3:1; 4:4; 1 Pet. 1:8).
Where happiness is simply an emotion; joy is an attitude of the heart that derives from love and the knowledge of God. So it makes sense why we can experience joy in the midst of suffering. Suffering and affliction are ultimately temporal but God's providence is eternal.
How does God's people know joy?
Notice that God's deliverance, goodness, compassion, presence, salvation, generosity and favor are everlasting.  So we can continue to be joyful if we trust in the everlasting promise of God and engage in work for the kingdom.
Therefore, "Rejoice always, pray continually, give thanks in all circumstances; for this is God's will for you in Christ Jesus, Amen.