I am surprised my daughter didn't think about what I assumed was obvious.
She lifts a clean plate from the dishwasher, places it on top of the stack on the kitchen counter; among cans of pumpkin and a warm crock pot simmering with pulled pork for dinner. Holding a towel in her hand to sop up pools of water lying on the bottoms of overturned glasses she says," I just realized this is my last Thanksgiving at home, I hadn't thought about that yet."
"Oh, I've thought about it every day this week," I interjected as her Dad chuckled from the living room, his feet propped up, lying back in a recliner.
Her last things are what I think about as often as I eat lunch.
A few weeks ago, while on a walk, a friend shared a story about her marble jar. She told me that each marble represents the number of weeks she has left with her last child at home before he leaves for college. I realized that if I had a jar for my daughter, mine would hold approximately 37 marbles, a sobering thought as she prepares for college.
Our marble jars are becoming clear glass as time empties.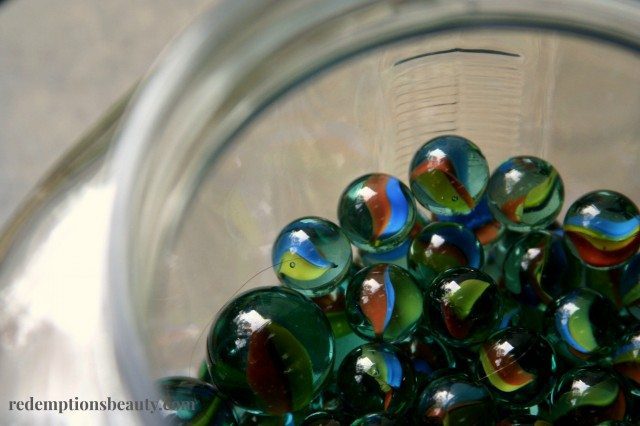 On family vacation last summer, while swimming in the lake, I pondered whether it would be our last time huddled together talking with our heads bobbing in a circle at sunset. Last week, as my daughter pushed her fingers into pie pastry, crimping the edges, I was capturing the moment like pausing a frame in a favorite movie. Today as she joins her Dad to run errands, collecting materials for a school project, I think about the way our days are numbered. (Psalm 90:12)
What does it mean to live wisely and well? Do we know how to do this without regret?
Perhaps the way to live well requires dying first.
Die to the mistakes you made in the past, the ones you can't do anything about. Die to your idealistic view of the future, that best version of yourself instead of God's unique calling you weren't expecting. Die to your need for tidy outcomes and then die again when the fear of not knowing causes heaving in your chest.
As we die to our assumptions, presumptions, and expectations, we harness the unfiltered light of our imperfection, beholding truth and beauty. Embracing last things cultivates destiny. Your goodbye makes hello possible.
Today is my last marble in the jar for Living the Story, my column here at BibleDude.net.  I've thought about it over the last few weeks as often as I eat lunch.
My time writing stories here started as divine providence, an unexpected gift on my birthday. A year later, I look back with surprise for what God knows is obvious. Just like parenting my daughter, the journey was never about numbers, weeks, or marbles, but building relationship. I'm thankful for Kelli, Kris, Ashley, and Christie, for the way we've done life together as a team on a sacred haunt for redemptive beauty; casting our words out for the masses and pulling in the riches of heart transformation.
The way to find fulfillment is following in His footsteps. Empty the marble jar, allow Him to fill it. Die first and then live well.
Thank you for extending your love and encouragement through the comments as I've written here for the past year of Mondays. May your Advent season be full of expectant waiting for His vibrant marbles to fill your empty jar.