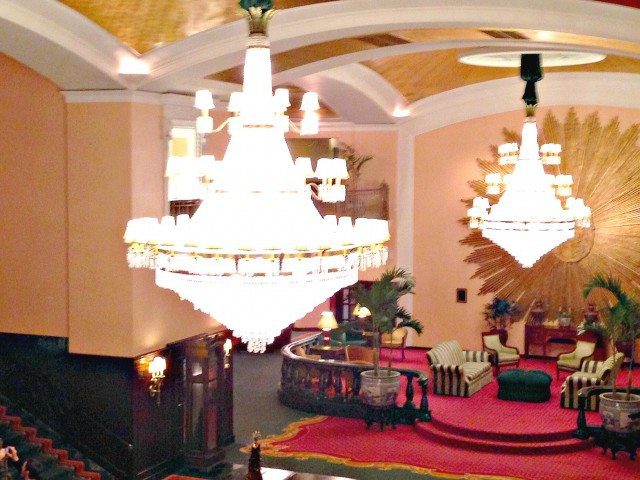 Saturday I snapped pictures of the Grand River out the corner windows of our hotel room on the ninth floor. Then my husband donned his black tuxedo with the gray vest. I slipped into a little black dress and rhinestone-sparkle heels. We walked under two-ton crystal chandeliers that hung from a gold leaf ceiling, past the fountain, up the stairs, and into the ballroom where we found our places at table 8.
It was the night of the annual company kickoff and awards presentation, a time to reflect and look forward, a time to celebrate temporal success.
It was a night to laugh and to cry.
It was a time to worship.
This is a local office of a very large, very diverse life insurance company, but those who received awards for top sales were also celebrated for humility and generosity and compassion, and they in turn gave glory where glory was due.
They gave their thanks to wives and moms and dads and partners and mentors–and God.
"I thank God," said one. "because without Him I would not be here. It's only by His grace that any of us are here."
Amens echoed around the room.
Most see their work as a calling.
"You have to genuinely care about people and their stories."
Isn't that the way it should be for any us? That whether we sell or write or teach or fly or drive a tractor, we would spill light into every corner? That we would walk in a way worthy of our calling, always putting the needs of others first? That we would grasp the honor of serving God right where we are?
We were asked to stand and join hands around our tables for the invocation.
I tell you, these events sometimes are just like going to church.
And as I ate my Caesar salad and broiled cheese-topped tomato and cherry-sauced chicken and creme brulee from several plates with several utensils, I told how Haitian orphans ate rice with their hands from frisbees. How they shared cheese curl crumbs with each other and took turns licking the inside of a Goldfish snack-sized bag. I told how hard it was to come back to commercial Christmas.
Later as my husband and I lay in bed on several pillows under a down comforter with drapes wide open, I could see the city lights and the water, and I heard the heat kick on and off. And in my mind I saw the children asleep in their bunks, on bare black mattresses, in a dark concrete building.
And I thought it's only by His grace that we are here.
But then maybe it's by His grace that they are there.