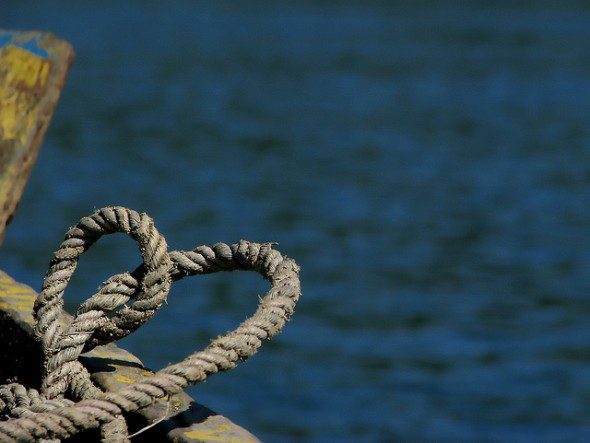 This past Sunday I was starting my usual afternoon Pastoral nap when there was a knock at the door.  I got up to answer the door and I find it was two of my neighbors.  These neighbors happen to be Jehovah's Witnesses.  They've stopped by a number of times to introduce themselves and to talk with me about who they are and what they believe.  Even though they know I'm a pastor they are not deterred from sharing their beliefs.  Perhaps it's because I'm a Pastor they feel like they have an audience to talk about their beliefs, because I do have a strong understanding of my faith and the Bible.
They were sharing with me articles from their latest magazine surrounding the Kingdom of God.  However, our conversation quickly turned into thoughts about salvation.  They were telling me all the things I needed to be doing to ensure my salvation.  Now, I am not afraid to talk with someone about the end times and what that means to me as a Lutheran Christian but in my mind there is a set time and a place for that.  When I encounter someone and we start to talk about God, especially when it's someone that I don't know; I'm not warning them about their potential to go to hell, I'm talking with them about a God who loves them, who cares for them and who will do anything for them. I tell them about Jesus – the one who preached God's kingdom and embodied God's love, the one who suffered and died on the cross and was raised again all because of his love for them and all humankind.  But Alice and Geoff have a different approach and that was quite clear.
After they shared with me I told them about my sermon earlier that day, I preached about Jacob seeing God for the first time and how we are called to see God as well, not only in the church but in the world as well.  I preached about how God comes to us to help us like according to the Spirit instead of according to the flesh.  I said that this is all about a God who loves us, who cares for us.  They said that they do believe in the love of God, but it was also important to point out to people that if they do something wrong, then Jehovah is going to punish them.
This is where we do not agree.
I told them if this is true, then Paul is lying in Romans chapter eight.  Paul asks the question "Who will separate us from the love of Christ? Will hardship, or distress, or persecution, or famine, or nakedness, or peril, or sword?" (v35).  His answer is quite clear "For I am convinced that neither death, nor life, nor angels, nor rulers, nor things present, nor things to come, nor powers,  nor height, nor depth, nor anything else in all creation, will be able to separate us from the love of God in Christ Jesus our Lord." (v.38-39)
Did you hear it? There is nothing that we can do to separate ourselves from the love, grace and forgiveness of God.  Alice and Geoff quoted lots of scripture to show me that what I was saying is not true.  But they could not explain away the awesomeness of God's love.
Right there in the book of Romans, we are told that no matter what some people may think or say, no matter where we may go or what we may do, no matter even what may be done to us, nothing can separate us from God. This is very clear — and if we were to take it a step further we can add to the list. All the things of this world that we fear disease, divorce, bankruptcy, a lack of a sense of purpose, a loss of a job or a failed relationship cannot get between us and God.  Sometimes they may drive us away from God, but when they happen, my hope – my prayer is that they to drive us into the arms of a loving, caring God who is waiting for us with arms wide open.  Because we have a faithful God who continues to run after us even when we turn away.   God will not stop until we are resting in His loving arms once again.
The truth is God loves us…forever…no matter what. That's why Jesus came: to tell us, show us, embody for us, God's love.
What are those things that you have done or have happened to you that has separated you from God?  Think about them, pray about them and list them.  Share your thoughts.