by Janna Bailey
When Tina's grandmother became unable to care for herself after being ill, Tina's parents decided to hire a lady to care for her grandmother. Tina and her father were police officers.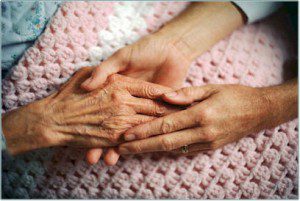 Tina told her father that she wanted to be present when the caregivers were interviewed.
Three women were interviewed to care for Tina's grandmother. Betha and Denise filled out the questionnaire and spoke with Tina's grandmother. Tina and her parents were quite comfortable with Betha and Denise. Betha and Denise were asked to be finger printed and have the police check to see if they had a criminal record, which they did.
Tina's grandmother was in the Living room when Lynn walked in the house. The hair on the back of Tina's and her dad's neck stuck out when they saw Lynn. Fear shot out of Tina's grandmother's eyes. While Tina's dad escorted Lynn out of the house Tina embraced her grandmother and assured her that Lynn would not care for her.
At work Tina's suspicions about Lynn were confirmed when she performed a background check on Lynn. Tina also learned that Lynn had served time under another name for elder abuse.
Tina's co-worker, Brittany, asked her how the search for a caregiver had gone. Tina told Brittany her family hired Denise and let her know what she had discovered about Lynn. Sadness shot out of Brittany's eyes.
"What did Lynn look like?"
"She is about 5'6 weighs 150 lbs., has gray hair and gray eyes"
"Does she has a mole on her cheek namely her right cheek?"
"Yes why?" 
"My grandmother had dementia and a lady named Lynn cared for her. My grandmother died two months after Lynn began caring for her."
Brittany showed Tina a picture of Lynn. "Is this who you are talking about?" 
"Yes it is."
Lynn was subsequently arrested, medical reports and evidence was gathered on the death of Brittany's grandmother, and Lynn was arraigned and charged with first degree murder and elder abuse. She was found guilty on all counts and sentenced to life in Prison.
Tina, her family and Brittany thank God that Justice had prevailed and Lynn would not be able to harm another elderly person again.
About the author:
Janna Bailey is 49 and has a disability. She began writing stories as a way to help other people who might be going through what she did. She wants Jesus to take the ugly things that have happened and use it for God's glory.
Check out more great stuff from the creative writing challenge: justice edition.