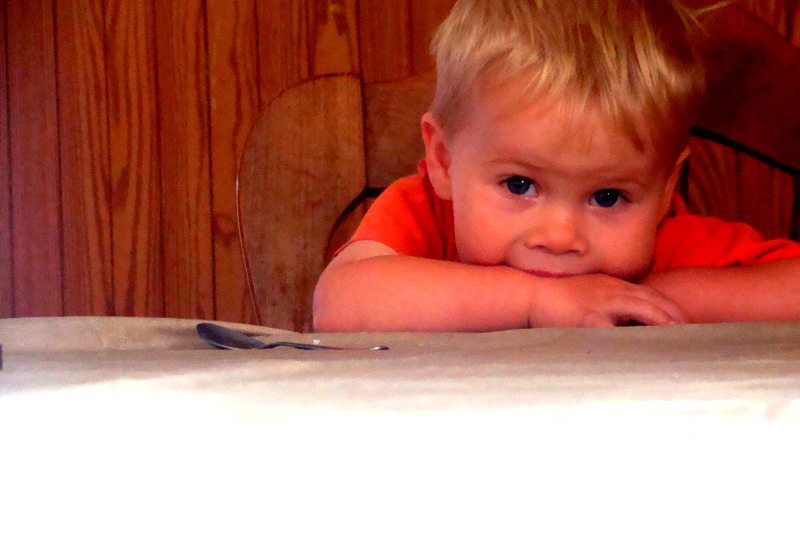 It was the Monday to end all Mondays.
We had made it to lunchtime only hanging by a thread. Leftover hamburgers from the weekend grill were forced into the microwave while hunger held tightly to the greasy door handle, waiting for the ding. Peanut butter slathered bread and counters alike and blueberries were passed from hand to hand with care. Precious manna, they were. And none must be lost.
Somewhere between baby's cries for yogurt and the big boys' banter of who forgot to feed the dogs, I caught a glimmer in her eye. The corners of her mouth began to turn audaciously upward – a midst all the mess and the noise – into an idea.
When she spoke, it was in that voice that carries. That voice backed and strengthened by creativity and courage.
"I'm going to tell you a story."
The effect on the room was startling. Yelling evaporated, spoons ceased their clatter, boys sat down, and the microwave let out its final cry. It was not just an end but also a beginning – as all endings are, of course.
"There once was an orphanage where three little children lived among so many others … " And she lulled them into a quiet mealtime accompanied by the confident cadence of her tale. I can't say I let the enchantment of the spell fall on me, though. Sometimes mothers have to work when they can and I kept at my job of sweeping crumbs and whisking blobbed jelly off the floor before it ended up someplace worse. But I listened in my mindless way.
"The children wanted to be adopted so much," she said, convincing us of their sincerity with her eyebrows. "But times were hard throughout their whole land and few were those who could afford to take in extra children … until one day."
This turn of events brought a new light to her listeners' eyes and if they had not been eating, I think they might've started biting their nails.
"A young couple showed up at the orphanage one day looking for just the right child to welcome into their home. They looked all the children over; they spoke to several; they walked the halls and watched them play. But three of the children wanted to go home with this couple more than anything else in the world. They wanted to be loved … "
At that, she broke off, her fingers busy at the edges of her PBJ. But after only a hiccup in the flow of her story, she jumped back in with a question, all avant-garde:
"What would you do if you were those three children? How would you act when you saw that couple coming down the hall toward you … ?"
The seven year old spoke up first, "I would be as nice as I could be."
Her five year old sister was quick on her heels, "I would try to be cute," batting her eyelashes for effect.
Eight year old brother threw in the last suggestion, "I would help people. I would hope they would notice that I was a helpful child."
I almost dropped the grape jelly.
Because the cuteness, the niceness, the helpfulness? These are ways my children assess themselves worthy to be loved. Heck, I might as well fess up. These are ways I've assessed myself worthy to be loved.
By performance.
And I'm stumbling along in this everyday life, trying to plant my feet firm enough to leave an imprint for those who come after; to forge a path for these tender, plump faces that they would someday face the mountains brave and loved and yet never lose that tenderness. I try to be nice and I try to be cute and I try ever-so-hard to be helpful. But the truth is, so often I get hung up on this worthiness thing.
I forget that I'm loved as I am.
There is no amount of niceness, cuteness, helpfulness – or let's try some more grown-up adjective-ish nouns, shall we? – holiness, modesty, obedience, submission, character, integrity, sobriety, self-control, generosity that can win God over any more than He already is. Sometimes we try everything we know to turn His head and make ourselves irresistible to Him, as if He hasn't already made it clear to us that He wants none of those rags.
He wants us.
And the avant-garde of the Gospel is that we can do nothing to earn or deserve the love of God for us. It is not rational, not measurable, not dependent on us. It is not forged by worthiness nor dissuaded by the wretchedness of life in this skin. This is indeed one of the deepest messages of the Incarnation; that nothing is so secular that it cannot be sacred (M.L'Engle).
He has named us "beloved." He has declared us sacred. He has loved us first.
And the message of the Cross? Even in all its ugliness and pain, was a declaration of a different kind. It was the final, defining word on God's extension of Himself man-ward. Nothing was going too far, not even death. Because when Jesus hung there and whispered, "It is finished" through his blood-stained lips and gurgling up from a broken heart, I wonder if he also meant "You are worth it."
Oh, it was an ending, to be sure; but that's not all. Like all endings, it was also a beginning.
Perhaps it is where Freedom begins.
Join the conversation on Mondays in July as the writers of Living the Story explore the facets of living FREE from the lens of our own experiences. Was it a moment of guidance or direction, a season of love, a time of healing or rebirth when you experienced true freedom? We want to hear about your encounters too.

Mark your calendar! On July 29, we welcome Heather Kopp, author of Sober Mercies: How Love Caught Up With a Christian Drunk, as our guest writer with an opportunity to win her new book.