For those that know me, then you know that my son was diagnosed at a very early age with juvenile diabetes. The good news is that while we are still praying and fighting for a cure, he is in good health and leads a very normal life. But I share this to let you know that like many of you, I am no stranger to tough times. During this diagnosis, we asked "why us" frequently and often struggled with figuring out how any good could ever come from all of this.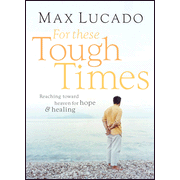 Recently, I've had the pleasure of reviewing Max Lucado's recent book appropriately titled, For These Tough Times. In this book Lucado answers some of the tough questions such as…  Where is God? Why would a good God allow something like this to happen? What good can come from this? What should I do? How should I pray? This book is a practical guide for working through the tough times that all of us encounter. Lucado's advice is solid and realistic. His voice of reason helps us to put things into proper perspective, something that we all need when our worlds are turned upside-down.
Lucado works through the tough questions by providing solid Biblical support for the answers that we need. It is evident when reading this book that Lucado doesn't share from his opinions or personal feelings. Rather he shares from a strong Biblical foundation. The answers come from the Word of God, not from the mind of man. This means that we can trust the answers that he provides.
As America's best-selling inspirational author, Lucado has shown over and over again that he is a skilled Bible interpreter. His messages resonate strongly with so many people because of his ability to understand the timeless principles in the Word, and connect them to present-day application.
This is a book that I wish that I had when my son was originally diagnosed with diabetes. I am certain that it would have made much of the process of dealing with that tragic event in our lives much easier. This is a practical handbook that I plan to keep nearby for the next time that we deal with any sort of difficult time in our life, and will share with friends as they encounter tough times. This is a book that you will definitely want to have when the storm starts heading your direction…
For These Tough Times
By Max Lucado / Thomas Nelson
When tragedies and disasters strike, both Christians and unbelievers find themselves turning to God for answers. In difficult times, prayer is the only answer. With compassion and understanding, popular author and pastor Max Lucado helps us understand how to pray through our doubts and fears.
Related post: the truth about tragedy