Henri Matisse once said, "Creativity takes courage."
Courage runs in short supply with me. I am much less brave outwardly, than I am in my own head.
But like anything else, creativity can be practiced. It's like a muscle we have that when unused, turns slack.
At first, the slow stretching is painful–perhaps messy. In the quiet moments of loosening our self-imposed discipline, freeing up our hearts to beat a bit faster, old wounds sometimes crop up. The swirling of a certain color on the page can remind us of a loved one, now gone. The smells of bread baking or the act of chopping apples for a pie catapult us backward into the attic of our mind, leading us to comb through the cobwebs of forgotten days, both the delightful and the ones we'd just as soon forget — forever.
Creativity is an act of bravery– not one reserved for those already brave.
For my birthday, a dear friend made me this art journal. Her willingness to create something as a gift took momentous bravery–I wonder if she worried about how I would like it (or not). I wonder, as she sat detailing the beauty of it's cover, if she ever considered something less original and more pedestrian as a gift. Those gifts are certainly safer.
To offer up your art to someone, to many someones–to the world even, takes a fierce act of bravery, a wild willingness to face whatever the response may be. A willingness to handle rejection; the humility to handle tremendous praise.
The other day during a discussion with a friend, I referred to myself as a "creative" as in, I said "I am a creative."  I owned my creativity–without excuse or apology.  
For years I have allowed the demons of comparison and fear to steal the joy of embracing my creative side.
Because I don't paint like her, I am not an artist.
Because my writing isn't as good as his, I won't submit an article to that magazine.
I have a habit of closing doors in my own face, to prevent the sting of others doing it.
But as I begin to flex my creative muscles, the further I am willing to stretch (even if it stings), the more I see the beauty of creativity–not just the beauty of it, but the gift of it.
This morning my middle boy tried to tell me he wasn't creative. This boy, who invents mythical animals and builds Legos without instructions, this child who paints and sculpts and cuts and pastes, dared to denounce his own creativity because of what? Because his art doesn't hang in the Louvre? Because he's "only 7," as if age is somehow a qualifier of creativity.
I looked him square in the face and told him, he absolutely is creative. This wasn't sufficient. He needed more confirmation, he wanted me to name his gifts. 
At the end of my list I gave him the greatest qualifier of all, and now I want you to hear it.  Because of all the reasons you are creative, and for all of the reasons you insist you are not, this is for you:
You are God's art. As an image bearer of your Father in heaven, you too, are a creator.
"Creativity is not about what you can do or what you're good at. Creativity is a response. It's a way of worshiping God and who He is, a way of worshiping His infinite beauty and love." Who Am I? (And what am I doing here?)
Our creativity is only limited by our own ability to embrace this truth about who we are, as intentional individuals created by the Master Creator God — So God created mankind in his own image, in the image of God he created them. (Genesis 1:27)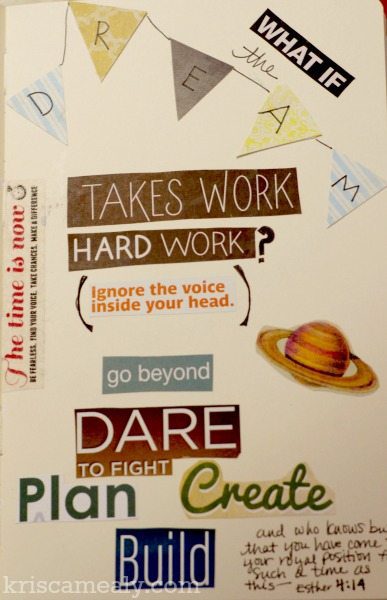 The truest measure of our creativity is whether or not we exercise it.
Are we willing to respond to God's glory by fearlessly reflecting it back to the world?
Will we bravely create something that speaks to the beauty and majesty of our King-Creator?
Each of you has received a gift to serve others (1 Peter 4:10 NCV)
The question is not, "Are you a creative?"  The question is simply, "How will you use your gifts of creativity?"
During September at Living the Story, we explore the theme Create. Next Monday, September 30th, author Emily Freeman of Chatting at the Sky, joins us with her story, an opportunity for bloggers to link-up, and a giveaway of her new book, A Million Little Ways: Uncover the Art You Were Made to Live. We hope you'll join us in the comments for a chance to win and share your stories with us on how the word Create speaks to you.