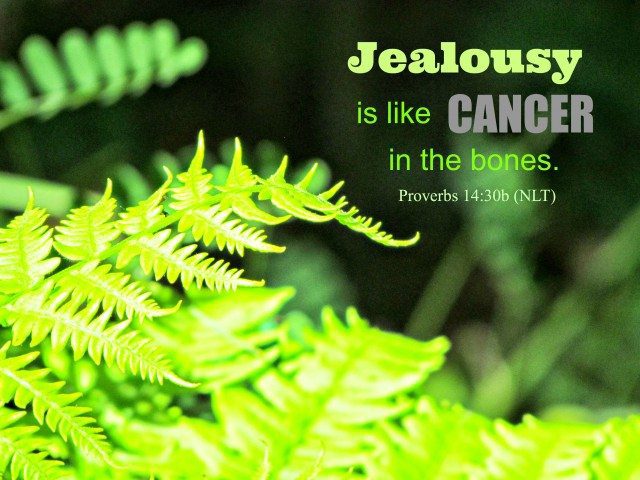 Jealousy is one of the occupational hazards of being a writer, and the most degrading. And I, who have been the Leona Helmsley of jealousy, have come to believe that the only things that help ease or transform it are (a) getting older, (b) talking about it until the fever breaks, and (c) using it as material. ~Anne Lamott in Bird by Bird
So even Anne suffers from this disease. At least I'm in good company.
I once talked with a friend  at a writing conference held in a Mexican restaurant. She told me about the novel she was working on and how her publisher had requested the historical setting–the same setting I planned for mine, one I thought was unique.
That's about the time the green guy appeared at my shoulder with a bowl of chips.
"That could have been YOU," he hissed like hot salsa in my ear. "SHOULD have been you. After all, YOU had the idea first. You are such a procrastinator. All these great ideas you have, and you never follow through. If you'd finished first, that publisher would have snapped your book right up. You lose. Again. And by the way, you're not getting any younger."
I threw the jalapeno fire sauce in his face.
Sometimes that's the only way to handle that green guy.
But you know, that might have been when I quit seriously working on my own book–as in thinking about plots and characters and doing research. Not in as actually writing. Unless you count the first bit I wrote and shredded. I ignored the fact that sometimes one's success breaks the ice for others.
I still haven't read my friend's book.
And that green guy still shows up every so often.
"How about that? She's been blogging less time and has more followers. And just look at that string of comments!"
"No agent or publisher is going to come begging for you based on your blog."
"How do you suppose all these women manage to go to all these conferences and trips and cook these Food Network-worthy meals anyway?"
"Ha! He just wrote a book right smack off your "platform! Guess you won't be writing that one."
"You really would be happier if you just gave it all up. Made a little soap. Finished stripping the wallpaper and finally painted these walls. Put your feet up and watched Duck Dynasty like everybody else."
It's enough to make you throw yourself down the back stairs, as Anne says.
Just the other morning that green guy showed up for early morning coffee. He read Facebook posts over my shoulder and clucked this tongue. "It's not fair, you know. You're older. You've had more life experience. You should be much further along in this journey. Oh, and by the way, those people with the nice words? They're just being nice."
I squished him between the covers of One Month to Live: Thirty Days to a No Regret Life and Dorie, the Girl Nobody Loved. 
I hate that guy.
It's not that I'm not happy for my friends. I am. Honest, I am.
I think I'm afraid.
And angry.
Afraid that I might never realize my dreams in the time I have left, afraid others will use up my ideas.
Angry at myself for dragging my feet and procrastinating all these years, for not maintaining discipline and order, for not arranging a consistent writing schedule, for falling prey to perfectionism.
The older I get, the more I realize that when I'm out of sorts with someone, even jealous, it's usually reflective of how I feel about myself at that moment. Lamott's therapist told her that "jealousy is a secondary emotion, that it is born out of feeling excluded and deprived, and that if I worked on those age-old feelings, I would probably break through the jealousy. I tried to get her to give me a prescription for Prozac . . ."
Yes, I know all things happen according to God's plan and in His timing and that nothing can muck that up. I know His plan and timing for me is not the same as anybody else's. But still…
I have to remember how much He loves me (us), how He never leaves us and never leaves us out, and how He wants to love others through us. I have to pray for a tranquil heart which is a good medicine for what ails me. Whether I write another word or not.
I really need to read my friend's book.
Or maybe I should just put my feet up and watch Duck Dynasty.
Do you ever struggle with jealousy, whether in your writing or some other area of your life? How do you deal with that green guy?
Note: I'm taking this awesome class through Tweetspeak Poetry on The Writing Life. This week's assignment was to write about jealousy and how it impacts our writing life. Sigh…