What does love look like?
It's difficult to know where to start with this one. Maybe it's enough to say that there were two conditions that existed in close proximity to each other…
(1) A family with a need.
(2) Lots of people in a church who want to love extravagantly because they were first Loved Extravagantly.
It started with one family becoming aware of another family's need. When they agreed that it was time to try a 'love blitz', they spread the word over Facebook that we were all going to gather to bless the family in need.
Within 24 hours, the church (the people, not the organization) responded with donations of food, diapers, household supplies, cash, and gift cards.
Most of the people didn't even know the family that they would be donating to.
As the people gathered everyone was given directions to where we were going and strict instructions on what to do…
Greet the family by letting them know that we just want to bless them.
Leave the food and money.
We're in and out quickly.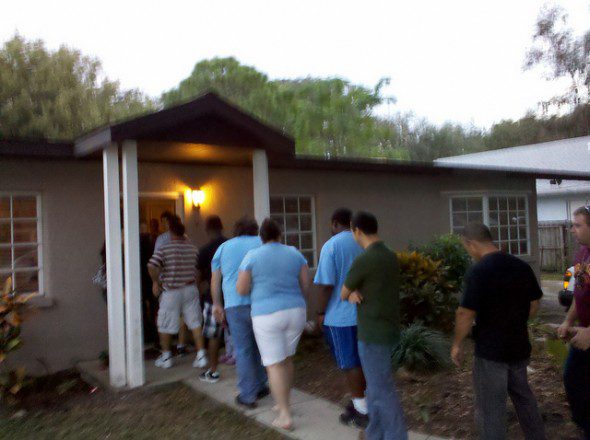 Confused about what was happening, the family being love-blitzed quickly felt the Love that they were suddenly being showered with.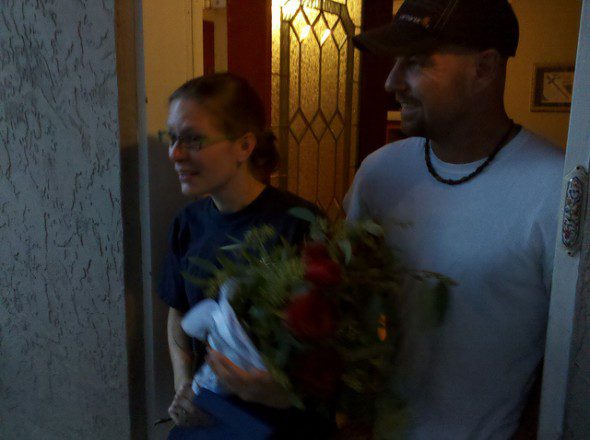 The team wasn't planning on going inside, but the family invited the 30 (or so) people in. So we prayed with them for a moment, and blessed their home.
Then each person hugged and/or shook hands with the family on their way out of the house, often sharing a quick, personal blessing.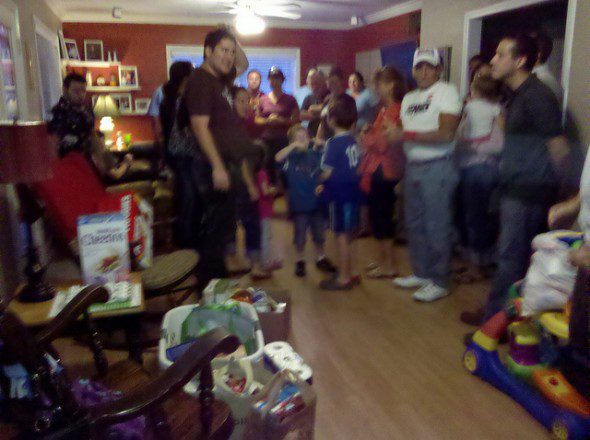 I spoke with the family for a little while afterwards. They told me that they've never felt the Love of God so much before.
Love looks like something, and today it looks like a turkey in the freezer, cans of soup in the pantry, diapers, paper towels, soap, and a box of Zatarains.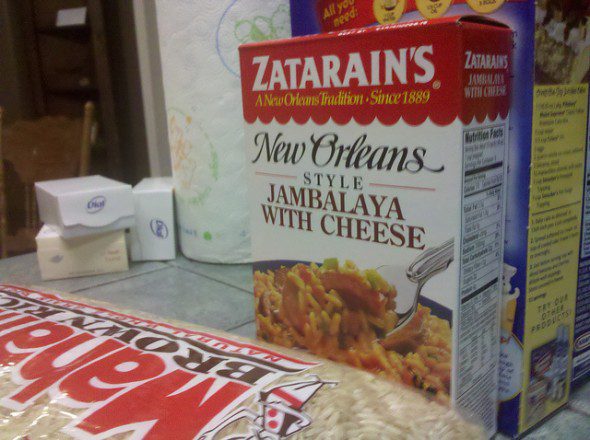 Earlier that day this family was saving the crumbs in the bottom of a bag of potato chips because they weren't sure when they'd be able to buy more.
Now they have to rearrange their pantry and food storage because there wasn't enough room for all of the food that was delivered.
And of course there was also the money. The generous cash gifts would help meet other immediate needs.
But of all of the cash and gift cards that were received, the most special was probably the two dollars taped inside a handmade card made by an excited seven year-old boy donated from his very own allowance.
It's hard to tell who got more out of this…
Those who recieved.
Or those who gave.
But it's certainly telling when the family who received expressed that they want to do the same thing for someone else next time the church does this.
What does love look like? Let's ask this one…