Sitting there in the darkened room while the book study DVD rolled on the screen to my right, I experienced the most jarring realization.
We've been doing it all wrong. 
Since my children were babies, we've practiced the folding of hands for prayers–tucking fingers together and over and under each other until they were tight enough to hold water.
With hands tightly closed we've murmured and wrestled through mealtime prayers and bedtime prayers, through mid-morning school room prayers and middle-of-the-night fearful prayers.
All of these petitions with our hands closed.
How did I not see this before? Why is it only now hitting me, that praying with clenched hands leaves little room to receive?
I get why we did it that way, the folded hands of little people have a harder time fidgeting and making distraction during the prayers. I get it, but I still think there's a better way.
I wonder what it would it be like to pray with our hands unfolded, what it would feel like to allow the cool of the room to settle in our open, expectant palms.
I think of saying prayers with all of us around the dinner table, hands cupped, ready to receive.
Would it feel different?
Even just typing the words, I feel a certain vulnerability. Because if we're honest, praying with open hands means praying expectantly–it means we believe that God will fill, and in trying to believe this, we risk disappointment.
It's certainly easier to pray with my hands closed. It's easier not to expect too much, not to risk believing in things I can neither see nor really imagine. It's also dry there in the desert of doubt.
As it hit me in that dark room, it wasn't just an epiphany–it was a conviction as well.
Why do you pray with your hands closed tight? I felt Him asking.
Open your hands. Believe in my promises.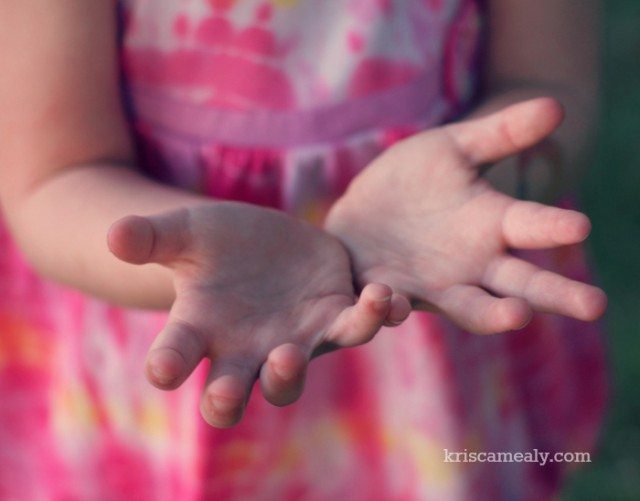 He comes to those with the open, grateful hands. ~Ann Voskamp
It's been a season of learning how to pray again–of learning how to be open to the possibilities without the fear of disappointment.
I think we will try it, the next time we gather. We will lay palms flat, upward to Him, waiting, believing that He will fill them.
You did not choose me, but I chose you and appointed you that you should go and bear fruit and that your fruit should abide, so that whatever you ask the Father in my name, he may give it to you. John 15:16