I know that this may not get me noticed as the one that posts the freshest, newest music out there…   BUT I just love this song, and the video is too cool! When I score these guys in what I consider to be the key elements of being a great artist, they score high in every area…   music, check…   lyrics, check…   spirituality, check check…    This band has got it going on, and the video even kicks it up a notch showing the bands quirky, fun style. Check out the video below, and seriously consider buying the CD and/or getting this in the rotation on your iPod/mp3 player.
[youtube R4VqFGCu_JI Video :: All That Matters Video] 

You can buy the CD now using the links below…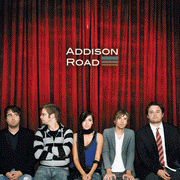 Addison Road CD
By Addison Road / Ino Records/m2.0 Communication
Female-fronted Texas five-piece Addison Road offers it's self-titled debut for INO Records, featuring energetic pop rock compositions about finding your place in the world and in God's grace. Includes the hit single "All That Matters" plus "Hope Now," "Always Love," "This Could Be Our Day," and more.