Be it my camera or my husband's .22 rifle, I want my aim to be right on target, bulls-eye center. I'm drawn to hobbies that run parallel with my talents. Similar to you, I imagine, I like to do things that I am good at, things that I already have some sort of natural inclination toward, activities where I achieve some degree of success right outta the chute gate.
This is how I'm built.
And I admit it, before you and the Lord God Almighty, I detest the learning curve…
"I need to be so utterly God's that He can use me or hid me, as He chooses, as an arrow in His hand or in His quiver. I will ask no questions: I will relinquish all rights to Him who desires my supreme good. He knows best."
~ Nancy Leigh DeMoss. Surrender: The Heart God Controls
Several months ago, after having saved my money for one Christmas and one birthday, I went to the local archery shop. I wanted to buy a compound bow and some arrows so I could make lots o' purty holes in the center of a target. I looked around, fingered the wide assortment of bows, and the owner, known as Lady Red, let me shoot her custom-made longbow. Something about the more traditional "Indian creeping through the woods" as she stated it, longbow style really appealed to me.
However, one detestable freebie came with the recurve bow that I had finally decided to buy: there is no sight, there are no crosshairs to center, nothing to align; there ain't a thing to aid in my bulls-eye target tendency.
"Uh, excuse me, ma'am, how am I gonna hit that blasted target each time?"
"You won't, not at first."
"What?"
"Look at your target, notch your arrow, lift your bow, pull your string, and release. Smooth. Gentle."
"Wait a minute. What do I line up?"
"Nothing, momma. Just focus on where you want your arrow to hit and your body will adjust. "
"Huh?"
Two weeks later, I picked up my new bow and all the needed archer accessories, including a yellow and red target. After more instruction from Lady Red, I went home and practiced. A lot. And much to my dismay and increasing frustration, I missed the blasted bulls-eye. A lot. But, I kept at it.
One day whilst notching my arrow and anticipating another sure miss, I realized how much my archer learning curve resembled my Christianity. In both, I wanted to utilize some tangible and seen thing(s) to make my efforts worthwhile and successful.
In other words, I didn't wanna throw effort after foolishness.
"Now faith is the substance of things hoped for,
the evidence of things not seen."
Hebrews 11:1 (NKJV)
Throughout the summer I practiced morning and night. Sometimes the arrows would THWAP! into the red circle, but more often than not, they grouped elsewhere on the bag or the nearby ground. Time and again I stopped by the archery shop, twined my thumbs through my belt loops, and asked Lady Red if she could mount a site on my bow. Every stinking time she changed the topic, ignored me, or talked about my form.
"Give it some time, momma."
"I wanna do it right. And I wanna do it right, right now."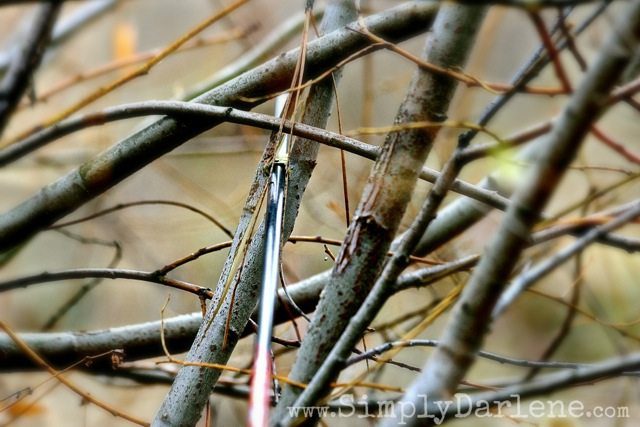 "Didn't you tell me you have Indian blood in your veins?"
"Yes, ma'am."
"It'll come." Then she'd mock out a crouch-n-creep through the imaginary woods before she went back to stringing bows and fletching arrows for other customers.
Yikes. She knows her stuff, but dude, I thought she'd done gone and flipped her noodle with me. Ya know, beings that I'm so unique and special and different. And obviously she was blinded to the fact that I must have something archer-ly wrong with me.
Due to two successive injuries, I took a couple of months off from any archery practice, but the day before yesterday I was able to get back to it. I was very consistent. Yep, consistent at shooting high and right. After three arrows entirely missed the yellow target and cracked through branches, I moved the target elsewhere – to a place where arrows had no chance of lodging into branches or stumps.
Changing the backdrop helped some. My last two arrows, although off-center, knocked over the blasted target. That was sorta cool. With the final THWAP! the yellow bale tipped, as if I had defeated it.
Still frustrated with my results, yesterday I went to see Lady Red. She razored off a set of my plastic vanes and fletched me a feather-laden arrow.
"Here, maybe this will help."
It didn't. Even under her steady gaze and in pristine indoor conditions, I still hit high and right. Ugh.
"Momma, you are pluckin' your string. You need to touch your string hand to your lip, gently release, and follow through to your ear."
After I fixed my major form malady, Lady Red discovered that even though I am right-handed and shoot with both eyes open, I am left-eye dominant. All of which influences my aim.
In order for my both my archery skills and Christian life to properly jive within their given parameters, I must seek a master's advice so I can override my natural inbred inclinations and issues. I've gotta surrender this stuff and take my proper place in the dreaded learning curve—even if nothing about it feels good in the process.
" 'For My thoughts are not your thoughts,

Nor are your ways My ways,' says the Lord.

'For as the heavens are higher than the earth,

So are My ways higher than your ways,


And My thoughts than your thoughts.' "
Isaiah 55:8-9 (NKJV)
"Aim below center. Shoot for 6:30-7 o'clock."
We fixed my style and rearranged the focal point. THWAP! Bulls-eye! I hit the red innermost circle and the next, yellow circle time and again. She's the archery expert, not me. Lady Red taught me about form and function. After realizing my visual dominance issues, she told me where to aim in order to make my efforts hit the center mark.
I left the shop and felt much better about my skills as an archer; sorta like I felt that morning after I spent time with the Master Archer in dawn's breaking light. With both I knew that I had climbed the curve a bit more and that I indeed had not thrown effort after foolishness.
It took archery for me to realize that even if I hit off-mark of where I think I should, that maybe, just maybe, I've actually hit exactly where He wanted me to all along.
"For we were saved in this hope,
but hope that is seen is not hope;

for why does one still hope for what he sees?

But if we hope for what we do not see,
we eagerly wait for it with perseverance."
Romans 8:24 (NKJV)