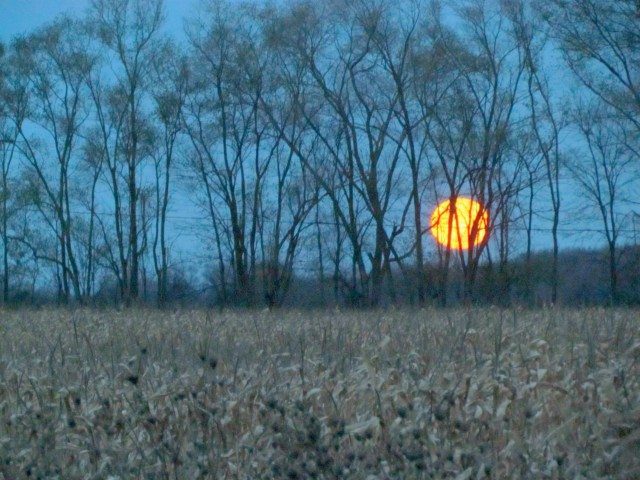 The moon drops into the west like a giant grapefruit this morning, while the storm's eye focuses on the eastern coastline.
My dad calls to remind me that this hurricane carries my name, and I'm already unsettled enough about that. I cringe every time I hear "my" name.
The wind gusts bitter, so I don a jacket and loop a scarf around my neck when I step out to run an errand. I fill my car with gas and pray for those whose lives will be blown upside down. The ocean, they say, will breach its boundaries and churn in the streets. Cities will go dark, and folks will be powerless.
Hurricane Sandy has already killed.
In Michigan, we're under a wind advisory. I pass two power trucks, one with basket high, and limbs fall. I wonder if this was a scheduled trim or one undertaken in advance of and in response to reports of possible outages.
Later my daughter texts me. "The sky is so pretty."
And it is. The gray's now edged with a 360-degree rim of pink, and the western sky seeps gold. They've started to harvest the corn, and a doe bounds through the field.
But the eye has made landfall.
When I go to town to meet my husband for supper, the wind's gusting harder. But a football game's in progress under lights. Three teens talk on the sidewalk. And once inside the Eaton Place (where leaves have blown halfway down the entry hall), we talk with church friends about last night's Trunk-or-Treat and choir and chocolate-eating dogs. I fill my plate from the salad bar, and D orders soup and sandwich. Afterwards, the car door slams against my leg.
When I get home, grateful for warmth and light, I continue to watch the hurricane images swirl on TV. The yellow travels across Michigan. They're calling it Monster Storm Sandy now, 900 miles wide, "thrashing anything in her way."
Five in New York are confirmed dead at this point. A crane dangles from a high-rise. Mayor Bloomberg tells his city, "Shelter in place. Stay where you are."
And I think we are never powerless in a storm as long as we shelter in place. As long as we stay where we are.
But the wind continues to blow, trees crack, and tunnels flood. And when morning comes, the light will reveal what was hidden in the dark.
My friend, Nancy, who's waiting for the storm to pass, posts her current Facebook status: "Just sitting in the dark, drinking wine and listening to my son make music in a minor key."
He battles the storm with a song.
Nancy goes on, "Sometimes the line between beauty and pain is so very thin."
The power of this stuns me. And I wonder if we could even see beauty without pain.
I slip into my bathrobe, pour a cup of tea, and curl up in my chair to watch and pray.