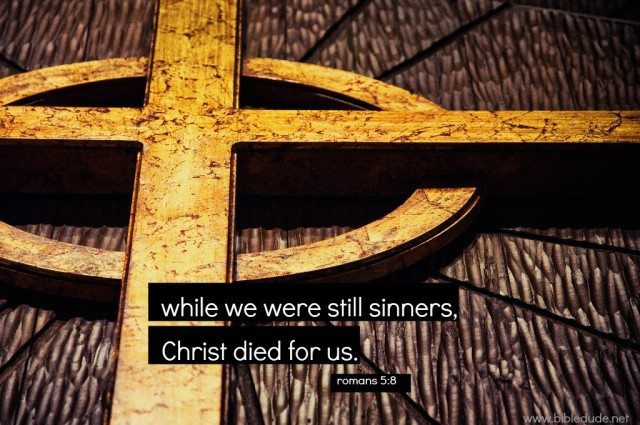 Weak. Ungodly. Sinner.
That's exactly what I once was. (And sometimes still am.) But thankfully, God had a different plan for me. He wasn't accepting of those labels which I and other people put on me.
Paul writes in his letter to the Romans,
For while we were still weak, at the right time Christ died for the ungodly. For one will scarcely die for a righteous person—though perhaps for a good person one would dare even to die—but God shows his love for us in that while we were still sinners, Christ died for us. (Romans 5:6-8, ESV)
When I look back at the man I once was, I can honestly tell you that I probably wasn't worth it. I've done some horrible, disrespectful, selfish, nasty things in my life. Yet, God looked at me, and saw something of value. Before I was ever born, He made sure that He had a plan for me. So He comes to us in the form of a man and sacrifices Himself on the cross.
For me.
Few things drive me to prostrate myself face-down on the floor like the realization of God's unconditional love, despite how unworthy I may feel of that Love.
Fortunately for me, someone looked at me the same way God looks at me. They saw the value that most others didn't see, including myself. That person invested in me because they believed that I was worth it.
So that's how I chose to look at others.
I get sad (and somewhat angry) when I see the Church passing judgement, and being overly concerned with being right. We become quick to label people as weak, ungodly, and sinners. We devalue them with those labels. And then turn around and say that we love the sinner, but not their sin. But is it love when we force them to wear those labels, and demand that they change before we truly accept them?
Or does Love look more like unconditional acceptance. Maybe it means that we look past the sin and say something like, "I don't care who you are, or what you've done. I believe in you, and think you have immeasurable value!"
"…while we were still sinners…"
If God is willing to overlook all of the reasons why I shouldn't be with Him in the Kingdom, shouldn't we set aside our judgement of others and their lifestyles? Isn't that why Christ died on the Cross? For every one of us who is weak, ungodly, and a sinner?
Lord, on behalf of all of us not-good-enoughs, us not-worthy-enoughs, thank you for making a way. Amen.