The Gospel of Mark is quite an interesting writing. It is the shortest of all of the Gospels, but is one that jumps right into the action, and reads almost like a Hollywood movie script. So as I study this action-packed writing with the Young Adults Ministry that my wife and I lead, I want to take the opportunity to write about some of what we are discovering in our studies.
But before we jump into the text, it is important to lay down some historical context. There are some important things that the reader must understand about the Gospel of Mark before reading it. This will help you to get your head around it better. The first rule of Bible interpretation is that, "before you can understand the [Bible's] message to us, you must first understand its message to them (the audience that it was originally written to)." Let's take a look at who wrote it, when it was written, and who it was written to.
Who Wrote It
The traditional view is that this account of the life of Jesus was written by a man named Mark (or John Mark), who was one of Peter's disciples. Therefore, much of the telling of this gospel is written through what was learned by Mark through the teaching and guidance of Peter. Out of all of Jesus' disciples, Peter was arguably the most abrupt. I always imagine Peter as one of those rough fishermen who was probably not the most "politically correct" of the group. He was the one who denied his friend Jesus once he was arrested, and the one who hastily cut off the ear of a soldier during that arrest. But at the same time, he was also one who experienced some of the most powerful miracles firsthand. He got to walk on water, and was responsible for some great healings (in the Book of Acts). He certainly had an interesting perspective on the life of Jesus. Much later in his life, he passed on these experiences to others including Mark. And as Mark wrote them, they end up being arranged not in the best chronological order, but as a series of incredible, and relevant narratives about the life of the most powerful man to ever live. I imagine Peter telling these stories sitting around with his closest students, saying something like, "Oh, and one time Jesus did such and such, and that was awesome!"
When It Was Written
As with most of the other writings, there are other theories, but the common view is that it was written shortly after the Romans had destroyed the Temple in Jerusalem. The Romans were a powerful empire, and they had just showed how powerful they were. While much of the revolt was centered around the Jews of the time, this turmoil certainly would have impacted Christian thinking at that time. The Roman government had already started formal, state-sponsored persecution of the Christians because of their refusal to bow to the Roman's pagan ways of worship.
Who It Was Written To
The focus of this gospel writing seems to be primarily to the Romans. While Matthew used many Old Testament references to prove the Messiah-ship of Jesus to the Jews, and Luke seemed to take a more intellectual approach to speak to the Greek mind, it was Mark that used the power of Jesus to speak to the Romans. The Gospel of Mark jumps right into the action, not wasting time on a genealogy that would be meaningless to a power-hungry Roman citizen. It is also packed with more miracles (per capita) than any of the other gospels. This is obviously a writing that is intended to display the power of this King to a people that would have been interested in a major display of power.
Throughout this series, I will be discussing some of my own study findings and perspectives on the Gospel of Mark. However, I always recommend to others that they dig in and study it themselves. It is my prayer that as I share what God is showing me in these studies, that we be able to have some great discussions here about what you are learning as well. My writing here is by no means authoritative. If you are looking for a good commentary on the Gospel of Mark, I highly recommend the one listed below. In fact, you may also find it to be a great study tool as we go through this together…
Recommended Resource: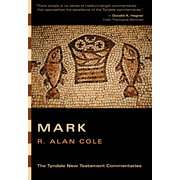 Mark: Tyndale New Testament Commentary
By R. Alan Cole / IVP Academic
The Tyndale New Testament Commentaries (TNTC) have long been a trusted resource for Bible study. Written by some of the world's most distinguished evangelicals scholars, including F. F. Bruce, Leon Morris, N. T. Wright, and Donald Guthrie, these twenty volumes offer clear, reliable and relevant explanations of every book in the New Testament. Formerly distributed by Eerdmans Publishing Co., InterVarsity Press is pleased to begin offering this series as a compliment to the popular Tyndale Old Testament Commentaries (TOTC). Like the TOTCs, the TNTC volumes are designed to help readers understand what the Bible actually says and what it means. The aim throughout is to get at the true meaning of the Bible and to make its message plain to readers today.