Nine rowdy tweens + six competitive moms + seven, local service challenges = an immense amount of fun.
To celebrate the end of our mom and daughter Bible study, a group of moms decided we wanted to do good in our community, but we wanted the type of good that isn't scheduled with a volunteer organization.
We divided up into three teams and raced to see which group could be the first to complete all seven challenges.
Stop 1: Pick up trash at a local park and fly down the slides together. Moms included.
Stop 2: Leave dollar bills hidden around the Dollar Tree.
Stop 3: Write chalk messages of love around town.
Stop 4: Buy a nonperishable meal to donate later.
Stop 5: Write a sincere note of thanks to someone important.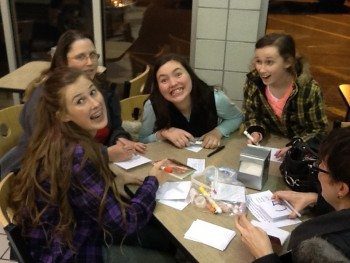 Stop 6: Fill the washers at the local laundromat with quarters.
Stop 7: Found out more about a local place to donate clothes and furniture.
What's your favorite way to spread good locally? Oh, and how excited would you be to find dollar bills hidden around the Dollar Store?