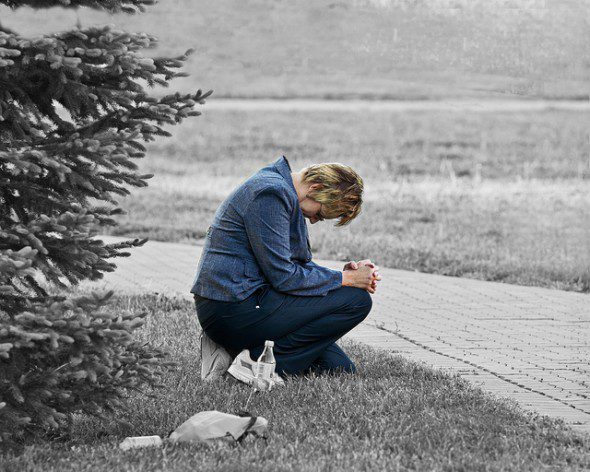 I am lying on my stomach on an operating table, waiting for a doctor to administer the third cortisone shot to my back. It's one of those bulging disc / pinched nerve things. And I ask myself if I should be praying.
I know what to expect: first the local anesthetic (slight pinch); then 10 seconds of sharp pain in my calf, enough to make me grunt and grip the sides of the table. Then I'll sit in recovery for 10 minutes with a Diet Pepsi, sending a text message to my wife in the waiting room: "All OK. Out in a few."
So should I pray when I know the process and the outcome? My answer is yes .
A vague sense of guilt hangs around my question. I have a list of prayer needs, and my back pain seems minor.
My friend Charity is undergoing radiation treatments for a recurrence of cancer.
The father-in-law of a good friend at work is battling cancer in several parts of his body; he's younger than I am and expecting his first grandchild in the spring.
Another friend continues to suffer from the effects of a stroke.
A woman I've known for more than 20 years has been religiously faithful to get mammograms, and this time she got an all clear – only to be told a mistake had been made in her reading – Stage IV breast cancer. She's fighting and winning.
A young man in college is so overwhelmed by responsibilities and life that he's considering suicide.
Friends are looking for jobs and finding nothing but closed doors and despair.
A couple going through a standard adoption process learn their case worker has screwed up so badly that the adoption could be jeopardized. The little boy they want to adopt has been living with them more than a year.
My back pain seems minor, almost trivial, in comparison. It's been improving, slowly, since August, when I was taking so much pain medicine that I couldn't drive for almost three weeks. But it seems selfish to pray for this in the face of so much suffering. I have been blessed beyond belief with my wonderful wife, my two fine sons and daughter-in-law, and my spectacular grandson; a good job; and so much more.
And yet.
My prayers to God resemble conversations. We talk. I talk and he listens. Or I just sit and listen, even when it seems I'm listening to silence. As surprising as it is to me, he wants to know everything on my mind and in my heart, the big stuff and the little stuff.
He wants to hear it all. Nothing is too trivial because it comes from the heart he created, the soul he breathed existence into, and the personality he shaped.
So I pray about my third cortisone shot and my back pain.
And I thank him for caring about this, too.