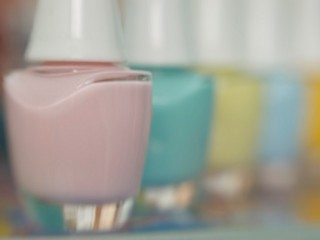 Here's a secret: I don't brush my hair.
Recently, my family managed to lose every hairbrush in the house. It did not faze me. It's like saying we misplaced a screwdriver. Ah, well, sorry to hear that, but it doesn't impact me.
Now, let's discuss my daughter. She's put together. She's fancy. She matches her clothes with her earrings. She knows where hair brushes are located. Oh, and my girl knows her nail polish.
Today my daughter told me she wanted to hold a nail polish stand. This was the perfect time for me to delve into all of the reasons a nail polish stand is superficial. It was also a good time for me to rant about the twenty some bottles of nail polish we own and how our money could and should be spent differently.
After I finished my mini-lecture, I felt proud (gross). Another nugget of wisdom I tossed down on my child. Where's my cape?
As my girl was leaving the room, I wondered what she would possibly do with her nail polish stand money should one of our neighbors drop by her stand, and so I asked.
"Buy more nail polish," she replied.
Did my recent talk mean nothing? Does she already have the nod and pretend you are listening thing down?
"For the girls at Steadfast House (local shelter)."
Experts say as we age, we often lose our creative potential. We conform to the guidelines set by schools or friends or life. I believe it.
My girl took something she knew how to do, was good at, and already possessed the resources to come up with an idea to serve others. That's creative.
And it's a good reminder about backing off and letting my daughter teach me about what comes naturally to her.
So, if you are in need of a quick summer manicure, I know a girl who will be sitting in the sunshine waiting to paint Marine Scene, Ivy League, Grape Icy, or seventeen other colors on your nails.