I don't care if Skillet is not your type of band; this is one video that you must watch! Personally, I love Skillet's rock-edge. But more importantly they have an amazing heart for worship and an incredible message in their music. This song specifically speaks to something that has been on my heart for a while.
In fact, on this music monday, I would love for you to watch this video, and listen to the message of the song. Then poke around at some of the other recent posts here at BibleDude.net, specifically the wordless wednesday posts like…
Check out the video now…
[youtube STIv7yItkYc Video :: Skillet, Looking For Angels]
And if you want to hear more from this Dove Award winning band, then you can buy the music here…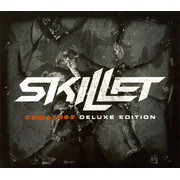 Comatose (Deluxe Edition) CD
By Skillet / Ino Records/m2.0 Communication
Massive rock riffs, swirling drums, monstrous hooks and undeniably catchy choruses. Hints of progressive rock mixed in with modern alternative flourishes and touches of classical influence as swelling strings intersect with sonic adrenaline rushes. It's indeed a fusion unlike any other, marking the latest chapter in the continuous evolution of Skillet, whose moniker couldn't be more fitting come its explosive release Comatose.
Deluxe Edition Content
New cover art
Comatose CD
5 acoustic tracks
1 NEW studio track
3 videos (Rebirthing, Whispers in theDark, Looking for Angels)
Making of the record
FREE Wallpaper
FREE Ringtone
Note: instructions for free wallpaper and ringtone included with CD
2008 Dove Award Winner
Rock Song of the Year– "Comatose"