If you like worship mucis with an edge, then this album is for you! Desperation Band has a great rock-anthem sound that creates an exciting atmosphere for worship. Starting with up-tempo songs like "Light of Salvation", "I Know", and "Taking Over Now" Desperation Band leads us into a worship experience that rivals the excitement of sitting at the Super Bowl while watching your favorite team score the winning touchdown…   exactly the way worship should be… charged with excitement for our Lord!
Then moving into the powerful yet reflective "Overcome", the band forces us to consider what God had brought us through, and to show our appreciation to Him for it. Then songs like "Maker of Heaven", "Pleasing to You", and "Good To Me" continue the theme of drawing close to the Lord, and soaking up His Love.
I promise you that this is one CD that you will not be disappointed with. Desperation Band has put together a powerful, anointed worship CD that should bring us all to our knees in honor of our King.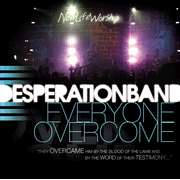 Everyone Overcome CD
By Desperation Band / Integrity Music
Get ready to rock with Desperation Band! Straight from New Life Church in Colorado, this passionate group of award-winning songwriters and worship leaders leads a searching generation into the presence of God in "Light of Salvation," "Taking Over Now," "Maker of Heaven," "My Savior Lives," "Coming Your Way," "Good to Me," and more dynamic new worship songs.