History is important. We can learn so much from it.
So when I saw that the theme for The High Calling's latest PhotoPlay was sharing images that represent our past I was excited to take a look at my own personal history. I was excited to see what I could learn about myself. Too often we get so focused on our present circumstances that we forget to remember what made us who we are today.
This PhotoPlay asked us to find images for five questions…
Who made up your DNA?
My mother and father divorced when I was really young. I grew up my whole life without them in the same house. So on my wedding day, one of the most important photos for me to get was one with both of my birth parents in it with me. This is the only photo I have of the three of us.
Where do you come from?
I've grown up on the beaches of Southwest Florida. Body-surfing, building sand castles, and digging up coquinas and sharks teeth were how I'd spend my days. Life was so carefree with the backdrop of waves rolling in one after the other. Maybe this is why I put way too much salt on my popcorn… because it reminds me of the aftertaste of playing all day in the sea water of the Gulf of Mexico.
What object is precious to your past?
One of my proudest moments as a youth came from playing football. The trophy in the middle (the biggest one) is for being the Most Improved Player. I won that one because I started the season as, well, let's just say one of the less talented players on the field. But down the stretch I had some games where I played at an MVP-level. I actually still have that trophy today. It's proudly displayed in my son's room after we talked about what it means to earn an achievement like that.
What memory resonates most deeply?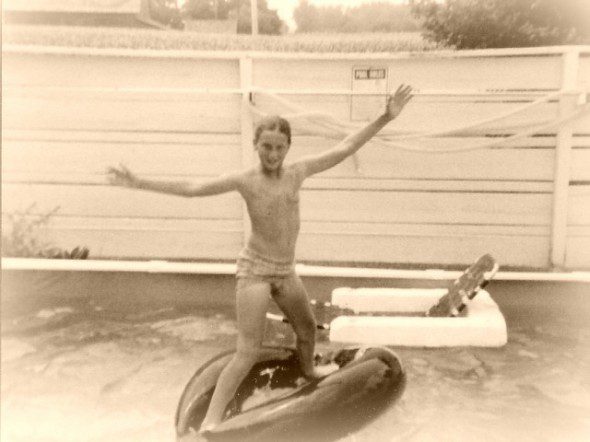 Summer's at grandma's house in Michigan were always special. Growing up in Florida meant that we weren't that close to our family and roots. Boys are supposed to spend summers like this… swimming, catching fireflies, and enjoying an ice-cold Coke in a glass bottle. Oh, and we can't forget picking fresh blackberries off the bush for a little mid-day snack.
What moment in history marks your childhood?
This last one represents so much more to me than what anyone else would know just looking at the photo. This was taken at a time when our family was being fractured (again) by divorce. Taken outside a house that couldn't possibly feel like a home, we smiled for the camera while making the best of a difficult situation. But this was also the first time I solo-sailed that little ship. It was a big step in the life of a boy who was gaining a bit of independence and becoming a man.
What does your history look like? What do you learn about yourself when looking back at your past?