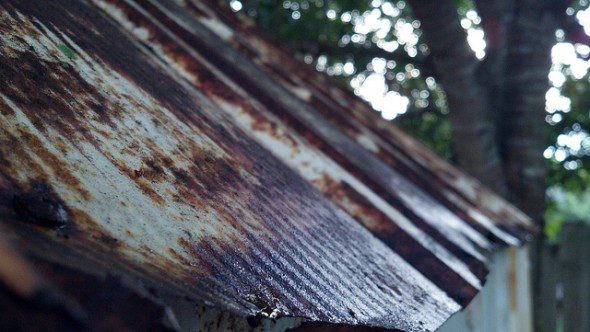 [serialposts]The comment said, "brilliant bokeh Dan."
And I was like, "huh, what?"
She continued, "amazing that you captured this with a DROID!"
And moving from the confused look to the big cheesy smile look I was like, "oh yeah!"
The comment was on one of my photos on Flickr for a PhotoPlay project at TheHighCalling.org, and the comment was from the Photo Editor Claire Burge. The assignment was to use the macro setting on a camera and get a very close-up shot of rust.
Yeah, rust.
If you're not familiar with photography, then using that macro setting will bring strong focus to an object very near to the camera, and blur the background. In this case, the photo I took was of a rusted metal roof on a shed. There were some trees in the background with a setting sun behind them. The result in the open space between the distant, blurred branches and leaves were these out-of-focus points of light referred to in the photography world as bokeh.
I had to look it up.
I felt a great sense of pride when I figured out what bokeh is, and was even more grateful that Claire challenged me in a way that I was able to capture it.
You see, I'm not even an amateur photographer. You may have picked that up based on Claire's comment that I was getting the picture with my phone. Like many non-photographers, the 8 mega-pixel camera on my phone is arguably the best camera that I own. Maybe one day I'll drop the few hundred dollars it'll take to get me something that will take really nice pictures, but I don't know that I need to.
Claire has been challenging many of us with PhotoPlay at TheHighCalling.org for a couple of years now, and she tells me regularly how impressed she is with my growth as a photographer. And I'm all like, "What? Me a photographer? No way! I'm just a hack with a mobile camera and a Twitter account."
The really cool part about these PhotoPlay challenges is that each one teaches a little lesson in photography. One time it was all about using the "rule of thirds". Now every time I look through the lens, I'm looking for how the screen is divided. Another time it was all about framing the shot. Now I'm always looking to how the edges of the picture look and if there are any natural frames in my subject that I can take advantage of.
Claire tells me that she's impressed with my photography because I learn and continue to apply all the previous lessons. And after her little bokeh-comment, guess what I'm always trying to capture again?
I'll probably never be much more than a mobile (phone) photographer. Mostly because I just don't have any intent of trying to get better quality pictures that what I'm getting now. The other reason is using my phone's camera allows me to share images immediately with my social networks. That's a big thing for me as I get involved in ministry programs, community service and outreach activities, and especially for mission trips.
More than making me a better "photographer," working on these PhotoPlay projects and learning the rules and practices that help me take better pictures, I'm learning to look at the word differently.
It's stretching me creatively.
And learning how to look at the world differently is helping me to grow in my craft as a writer. I find myself trying to do the same thing with words that I'm learning to do with images.
How can I position the subject properly through my verbal lens? Are there any natural frames around my subject that I can use to give better structure to edges of their story? And how can I focus on the dirty, nasty, unbeautiful aspect of my subject in a way that also captures the wonderful bokeh-light that makes it all worthwhile?