Waking up this morning I couldn't wait to get home! While I tried to enjoy my last few hours with the team, my mind was already wandering home.
At breakfast we all talked about how wonderful this experience was, while I (as the team chaplain) challenged them to not let it end here. What would we do when we got home to continue making a difference for the people and the mission that we were just on.
For me it's been continuing to share the images and stories of what God has stirred in me throughout this trip. For others on the team it's sharing their experiences with churches back home. Regardless of what we did, we all certainly felt responsible for telling the story about what we did and what we saw.
I knew that my life would never be the same. I also knew that it would be difficult returning home to the abundance to which I've become accustomed. Even the ordinary task of walking into a grocery store would prove to be difficult.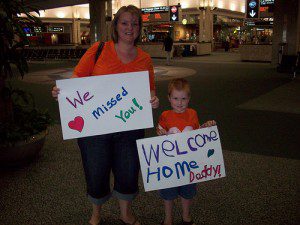 But I also knew that I needed to get back to my most important ministry of all… my wife and my son.
What if my greatest impact on a trip like this is not just in the work that I did while I was there? What if I could continue to have an even greater impact in the life of my son by showing him that I'm serious about making the world a better place, and that he can too? What if this whole thing sets off a chain reaction (even if it is just in my family) to make a difference not only half-way around the world, but even in our own backyard?
This is one of the reasons that I couldn't wait to get home.
Sure, I missed my family. But I couldn't wait to get back to some of the most important ministry work that God has entrusted me with.
Thank you to Jim Oakes, John Hutchins, Bob Larson, Cavin Philbin, Jean Ann Feneis, and the staff of Five Talents International for letting a crazy blogger like me tag along on an amazing trip like this! You have all touched my life in a way that I'll never forget.
.
Check out more from this series in the africa diaries.