Here we go…    This is what we came for!
Our first day of teaching has arrived! And one of the first things that I learned today was that schedules (time) in Africa are very different than they are back in the States. I think that our start time was supposed to be 9:00 AM, but it wasn't until about 10 or 10:30 that we really started getting a decent crowd rolling in!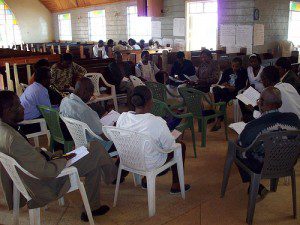 Whatever the reason, our first sessions were underway! Day one of the training covered two main topics. The first topic is on Christian Entrepreneurship. In this portion of the training we discussed things like how to identify a need in your community, how to recognize skills that you have that can meet those needs, and how to choose a business. At the end of this session, we would break the participants up into groups so that they could decide on a sample business idea that they would use as they worked through the rest of the lessons.
The second topic of the day would cover marketing. In this session we talked about things like good customer service and several other factors that help you when marketing your business. At the end of this lesson, the people would break up into their groups again to work on marketing plans for their fictitious businesses. It was amazing to see what the people were coming up with! I was incredibly impressed with their ingenuity and resourcefulness!
This day, however, was not my day to teach. But I could not help but to jump right in and help with whatever needed to be done. I would work the flip charts, get participants their booklets as they came in, or even just sharpen pencils. Even as a coporate trainer (my job in real life), part of me was glad that I didn't have to teach!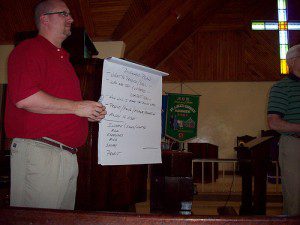 For me not teaching meant that I had the opportunity (1) to simply be a servant, and (2) to focus on who these people (our students) were and understand their needs better.
It was important for me to just serve. In fact, this was exactly why I came all the way to Africa, and this was a great reminder of that. I didn't do this so that I could impart some great knowledge on these people and magically make their lives better. I came to serve them and share the love of Jesus with them. That is what would make their lives better.
It was also important for me to be able to focus on the people, rather than being distracted by what I was supposed to say next. What I saw was a group of people who had the same dreams that I did. They hoped for a better life, particularly for their children. These people weren't that different than me after all. They were working to improve their lives, and this training was a tool that would help them do so.
Today I got to see a glimpse of what this training would do for these people. It would open their eyes and uncap their potential! And it was exciting to be a part of a turning point in their lives! Now, all I've got to do is shake the nerves before the lesson that I've got to teach them tomorrow… 
Check out more from this series in the africa diaries.