My first morning in Africa! I could not wait to look out my window to finally see what Africa looked like! But I had no idea how quickly this trip would start impacting me.
The place that we stayed that first night was actually a really nice guest house that was run by the local Anglican church. It was a beautiful place! As I looked out my window that morning I saw some plush, green grass and amazing yellow and purple flowers everywhere. The atmosphere was different than what I was used to. In the heart of Nairobi I seemed to be in a secluded little sanctuary and I could tell there was much to see and explore outside the walls of our little church guest house.
I also awoke to some news that would present our team with its first challenge. One of our team members just got news that her sister was terminally ill, and she had to turn around and make the trip back home to be with her and the family. Our hearts broke for our team member, but our biggest priority at that moment was getting her off safely.
After breakfast we had a little time to kill so we all went out to a local market. Part of the market was like a mall. But unlike our air conditioned malls here in the States, the indoor portion of this place was cooled by any breeze that might be blowing through the common areas of the building. There were also a bunch of craft vendors just outside the main entrance. Some of the crafts were quite unique while many were selling common 'crafts' that I would learn that can be found all over Africa. One of the most striking differences that I noticed was the armed security guards walking around everywhere carrying some serious rifles. It was a little bit of a shift from the mall cops that I was used to back home!
After lunch, it was time for our remaining team members and I to head out to our new home for the week. It was a drive that I would never forget. Being a first-timer in Africa, the team let me sit in the front seat of our van. I had my camera ready, and I was excited to get some pictures along the road from Nairobi to Thika.
Traveling through Nairobi was interesting, but ultimately it was much like driving through any major city. I was looking for something, anything that would help me to experience the shift in culture that I knew that I was about to slam into. But there wasn't anything earth-shattering for me… yet.
As we got just outside of downtown Nairobi I quickly started to see why it was that I came. I was blown away by the large masses of people that gathered on the sides of the road, either waiting for transportation or just walking around. It was amazing to me to see more people walking up and down a major highway than there were driving in cars!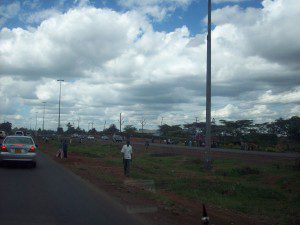 Private transportation was not something that most people could afford. To have a car meant that you were counted amongst the wealthiest people in Kenya. This meant that whereever people went it took a level of effort that we are not used to here in the United States.
I was also blown away when the first stream that I saw along the side of the road had people bathing (completely nude), children swimming, and other people drawing water from it. I think that I expected to see stuff like this, but not on the side of the road just outside the capital city!  It was apparent to me that there were lots of things that were different about this place than what I was used to. By the end of the day, just the drive from Nairobi to Thika opened my eyes and made this trip more real to me than I would have ever imagined.
Welcome to Africa Dan… You're not in Sarasota, FL anymore…
Check out more from this series in the africa diaries.