I was finally an accomplished missionary! Well, at least in my mind I was. After all, I had just finished my first full sessions with one of the churches in Kenya, and now I was off to another. I knew that this next group that we were about to work with would be different, I just didn't know how.
For our next two-day session on basic Christian business skills, we had to drive about an hour outside of town into a much more rural community called Kairi. Most of the drive was down poorly paved and/or dirt roads making this commute a bit of a bumpy one.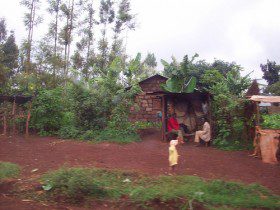 The land was beautiful! But along the way, I regularly saw people living in conditions that I just never imagined. The truth of the situation that I was watching as we drove by became quickly apparent to me. THIS is how most people in Kenya live!
While relaxing in my room in the evenings, I tried to take in some of the local culture by checking out what they had on TV. That alone was quite an experience! It has been a long time since I had to adjust the rabbit ears on a set with a 13′ screen!
One evening I was catching the local news out of Nairobi when I saw a scroll come across the bottom of the screen. Apparently Kenya Power was proud to report that now 18% of homes in Kenya had access to electricity! This was something to be proud of because it represented a huge increase in access to power in homes over recent years!
For me, the hardest part about this is realizing that the majority of these fortunate homes were culstered in the larger towns and cities. That meant that the area that I was driving through right now was likely well below the curve on that statistic.
The people were amazing though! As we taught our lessons at this site, I could not help but to think about the conditions that these people lived in. But nonetheless, they came and gave me lots of reasons to hope that what we were planting was going into good soil!
At times their lack of quality education smacked me in the face, but regardless of what they've gotten before it was easy to see their hunger for knowledge! I once again felt like the presence of our team and the knowledge that we were imparting literally uncapped their potential. All that most of these people knew was farming, and even that was on a small scale. I saw their eyeslight up as they started thinking about working together to accomplish much bigger dreams than what they previously thought possible. That was really cool!
However, I also realized another need that started to present itself. We were there to teach them BASIC business skills. But as they started to have bigger dreams for what they could do, it became obvious that they would need much more in-depth training and mentoring.
Don't get me wrong! The two days that we gave them was successful beyond what I ever imagined! But it also opened the need for more. It breaks my heart sometimes to think that while I helped them dream big, that many of them may end up frustrated because they don't know what to do next.
But these people are resilient… beyond anything that I've seen back home in the states. Somehow, they just find a way to make things work. And that is my prayer for these people. Until we can help them get even more education, Lord please help them to make good use of the tools that we gave them. Lord, help them to be successful and multiply. May the seeds that we planted, be fruitful… VERY fruitful!
There is also a bit of sadness as I wrap up this day, because it also means that my time in Kenya is coming to an end. Tonight we all have to pack up because it was our last night at our lodging place in Thika…
Check out more from this series in the africa diaries.