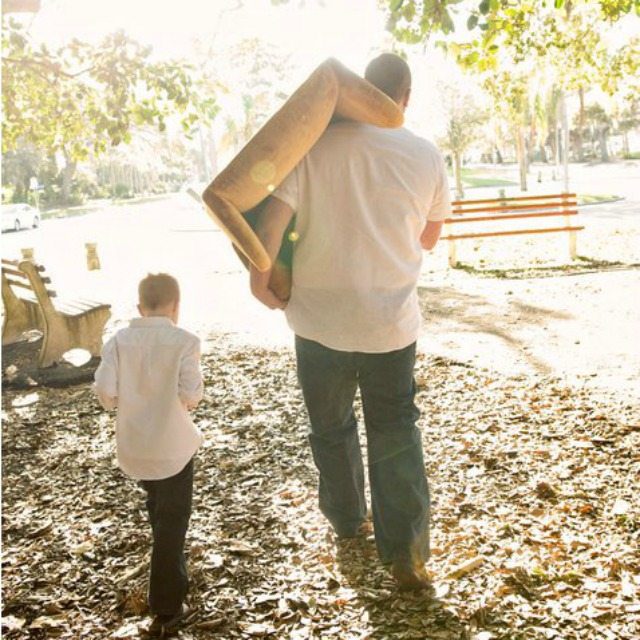 It's hard to believe it was nine years ago when it happened.
We were new parents. our first (and only) child was barely 17-months old. His toddler-talk always made me laugh, and he brought a joy to our lives that overflowed. He had been walking for a few months now, so chasing him became one of our most common activities. You know the drill. Daddy makes a step in his direction with an "I'm gonna get you" face, the boy screams and starts running in the other direction, daddy chases for a while letting him barely slip away a few times, boy giggles uncontrollably, then daddy scoops up the boy with lots of love and laughter.
I would do anything for that kid.
We also had our share of not so fun days. Nebulizer treatments helped us treat some fairly regular asthmatic-like symptoms. And then there were the tubes in the ears to help with the frequent ear infections. But none of this stuff was big enough for us to lose too much sleep over.
Then came my second ever Father's Day. This was going to be the fun one, because he wasn't even six months old the first time we celebrated this glorious event.
But something was wrong. It had been building up for a few weeks. My son was getting unusually cranky. Nothing seemed to please him. He'd ask for something to eat, but then when we put food in front of him, he refused to eat anything. He was also slimming out quite a bit. At first we thought it was just dropping of the baby fat because he was becoming more mobile and active.
My wife and I both had this uneasy feeling. We knew something was wrong.
First thing Monday morning, she took him in to his pediatrician just to check it out and be on the safe side. I went into work, and waited for the phone call to let me know how he was doing. My phone rang, and that was the moment everything changed. "We have to take him up to All Children's Hospital right away," she told me.
Type 1 Diabetes interrupted our lives that day.
I had a lot to figure out, and I had to stay strong for my family. But, I was broken. All I knew about Diabetes was that my uncle (who died WAY too young) had it his whole life too. Based on my limited experience, the outlook wasn't good… at all.
My wife struggled even more than I did, going into a pretty deep depression for several years. Today she says that she feels like Diabetes robbed her of so many years of not seeing the blessings that we had, despite the unwelcome diagnosis.
It's been nine years now since that day our world was turned upside down. And thanks to some great technology and advancements in research, things are pretty well under control.
While it's not always easy, we try not to let the disease define his life. There are many days when living with Diabetes is not very pleasant, both physically and emotionally. Regardless, we pick ourselves up and do what we need to do to keep moving forward.
When I think about my son, I see a kind and compassionate young man who wants to make a difference in the world. I can't tell you how proud that makes me. I remember one day when he stopped me to tell me about some girls he was watching on a game show.
"Dad, they love Jesus, just like I do," he tells me.
I asked, "How do you know that?"
He told me about how they were playing to raise money for an orphanage, and he said, "Because they love orphans, just like I do."
He gets it. And the best part is that he's choosing what kinds of things define his life.
I'm excited to watch this young man grow up. I'm excited to see him choose life, not only in his (physical) situation, but also with others. We pray together nearly every day for the child we sponsor in Haiti. And I'm hoping to get him down there very soon.
Every Father's Day I remember the feelings around that one nine years ago. And every year I am impressed to see new growth, new things to celebrate. I'm most excited to see where this young man's story goes from here. Because this story is unfinished…