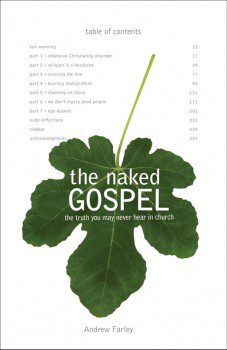 JESUS + NOTHING
This is exactly what the new book by Andrew Farley can be summarized as. The title alone is one that catches your eye… The Naked Gospel: The truth you may never hear in church. Wow! That is a pretty bold statement to make right on the cover, and that is exactly what Farley delivers!
From the back cover of the book…
Jesus plus nothing. 100% natural. No additives. It's the truth you may never hear in church. The Naked Gospel is a chapter-by-chapter assault on the churchy jargon and double talk of our day. It puts forth a message that is simple but life-changing. With a fresh take on Scripture and unapologetic style, The Naked Gospel will challenge you to re-examine everything you thought you already knew.
Each day for just over a week, several amazing people will be gathering here to share their thoughts on this book. Each of the contributors in this exciting lineup from around the U.S. (and Canada) will give us their take on one of the chapters. This is definitely a series that you will not want to miss!
The chapter schedule along with who will be sharing on each chapter is as follows:
obsessive-Christianity disorder (9/8) – Ken Leonard (A True Believer's Blog)
religion is a headache (9/9) – Tim Borntreger (@timborntreger)
crossing the line (9/10) – Chris Neufeld (

Twisted Christian

)
burning matryoshkas (9/11) – Bryant Neal (Camak Baptist Church)
cheating on Jesus (9/12) – Ken Elsner (Ken Elsner 34.8)

we don't marry dead people

(9/13) – Andi Shaw (

@andishaw

)
ego assult (9/14) – Don F Perkins (Shizuka Mura)
So stay tuned for some great discussion, and please feel free to jump into the comments and share your thoughts! In the meantime, here are a few things that you can do right now…
Buy the book. It will be a much better experience for you if you follow along in your own copy of the book.
Download the FREE copy of the eBook!
Subscribe to updates. Get the latest posts in this series in your email inbox or favorite feed reader. This is the best way to keep up with everything!
Tweet it up! Follow @bibledude and retweet updates from this event. If you want to share your own tweets, make sure that you use the #nakedgospel hashtag.